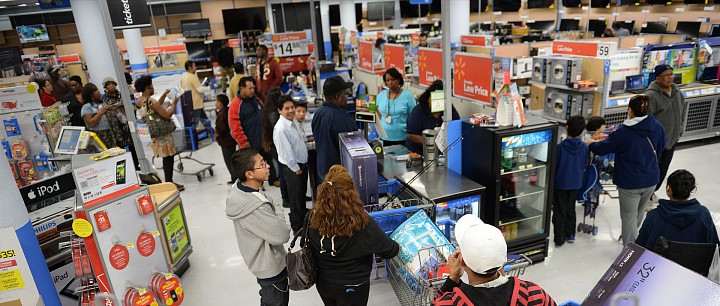 Here's more proof that Black Friday shopping is a competitive sport for retailers: Walmart's new "Dare to Compare" promotion for Black Friday, which promises to match or beat the best online prices offered by several major retailers. Not every product is covered, but Walmart says it will check prices on certain items, including TVs, throughout the day, and revise its deals at least every hour, and sometimes as frequently as every 15 minutes.
The program includes Best Buy and Target, but it seems to specifically target Amazon and its rapidly evolving Black Friday deals. Yesterday, we profiled some of Amazon's Black Friday specials, including Deals of the Day and Lightning Deals, which are spread over an eight-day period.
On Walmart's Dare to Compare site, the fine print says that the retailer is tracking prices on select online items from a number of retailers, including Amazon, Best Buy, Home Depots, Toys "R" Us and Babies "R" Us. On the right-hand side of the page, just below the Dare to Compare banner, there's a notice of when the five pages of watched items was...
More