Yesterday I talked about traditional breakouts and how they have performed, or underperformed in this market.
Cut to very early this morning – I was running my daily routine stocks screens.
Each day I'm looking for high-ranked, fundamentally sound stocks which are setting up in bases, and that could become buyable breakouts.
These have been our traditional set ups for nearly 15 years.
While looking for those, I'm also looking for any "themes" let's call them, to emerge which may be occurring within these 1000s of stock charts that I am looking at each day.
For example, I may see several stocks in the same group nearing or making new highs.
Group Leadership. That's a theme.
I may see more stocks selling off on volume vs stocks that are advancing on volume.
Distribution. That's a theme.
Or as it has been lately not many "traditional" set ups. Such as a flat base, cup with handle, etc.
Not much to do. That's a theme.
This morning I noticed several stocks that have broke out of downtrends recently and several that may be setting up to break out.
Let's call this theme – Trendline BreakOuts.
Here is a little about trendline breakouts.
When tracing out the downtrend, you need at least three points to define the trend. (See the green circles on the charts below.)
The more points you can connect the better.
Also, having those points fairly evenly spaced adds significance as well.
Connecting a point that may be too far back in history may not have as much relevance to today's price action.
Another thing, since you are not buying a breakout to new highs, you need to watch for areas of resistance that may loom above your purchase price. These areas can include the 50 or 200-day moving averages or some previous price high or lows. These areas can halt any price progress. However, a break above – not only shows technical strength – but also turns that area into your support, which is nice.
Trendline BreakOut Examples to Study
Santander Consumer USA Holdings Inc. (SC – NYSE)
Broke out several days ago, then cleared its 50-day moving average (blue line) in a fairly bullish fashion. Next stop, 200 DMA which is 3% above here.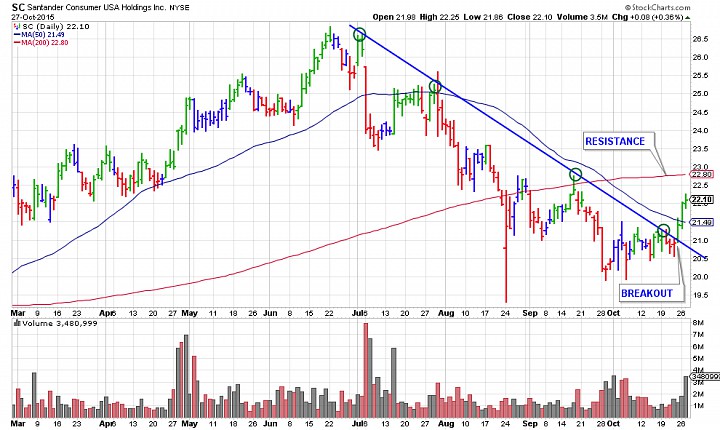 Mellanox Technologies, Ltd. (MLNX – Nasdaq)
Broke out in early October with volume conviction. Traded aggressively up to its 200-day moving average. Did pull back and that could have been a sell signal. Then bolted higher the following day. Continues chewing through overhead supply.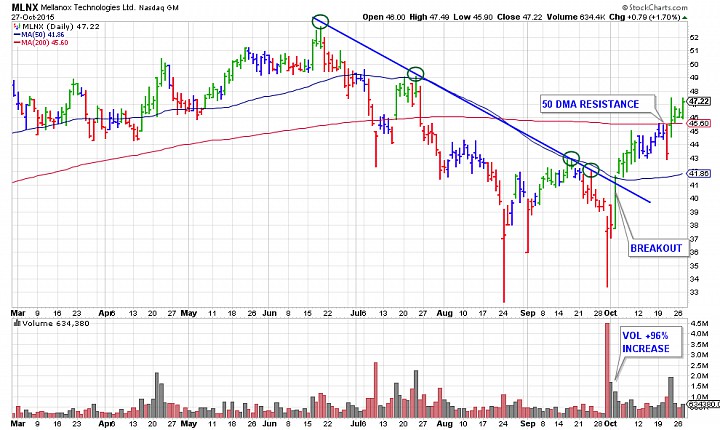 Another example is AGN which just broke out and then ran into its 50 DMA yesterday.
5 Current Trendline BreakOut Set Ups
The five stocks below are setting up and looked poised to break out and trigger buy signals.
Get this complete report when you sign up for my new personal portfolio service.