The global surplus of oil is even bigger than Goldman Sachs Group Inc. thought and that could drive prices as low as $20 a barrel.
While it's not the base-case scenario, a failure to reduce production fast enough may require prices near that level to clear the oversupply, Goldman said in a report e-mailed Friday while cutting its Brent and WTI crude forecasts through 2016. The International Energy Agency predicted that crude stockpiles will diminish in the second half of next year as supply outside OPEC declines by the most since 1992.
"The oil market is even more oversupplied than we had expected and we now forecast this surplus to persist in 2016," Goldman analysts including Damien Courvalin wrote in the report. "We continue to view U.S. shale as the likely near-term source of supply adjustment."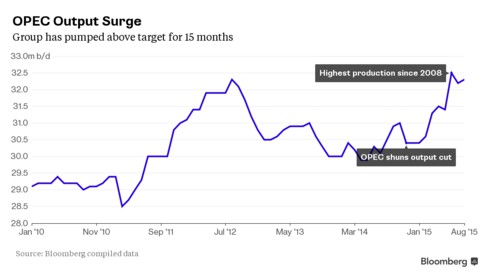 Goldman trimmed its 2016 estimate for West Texas Intermediate to $45 a barrel from a May projection...
More