Nasdaq is close to 5000 again. But fret not. Believe it or not – there are still stocks that are attractively priced.
There are seven stocks in the Nasdaq 100 index, including memory card maker SanDisk (SNDK), biotech Gilead Sciences (GILD) and entertainment company Viacom (VIAB) that look like barginas on multiple fronts based on the data. These stocks are rated "outperform" by analysts, still have upside before hitting their the 18-month price targets, have PEG ratios of less than 1.5, according to S&P Capital IQ, and are rated "attractive" or better by New Constructs.
Phew. Meeting all these standards is quite a feat – since it's getting harder to find stocks most people can agree on. The PEG ratio is a comparison of the price-to-earnings ratio based on expected earnings relative to the company's growth rate. Bargain hunting investors usually like to see PEG ratios of less than 1, but a PEG of 1.5 is pretty attractive in this market given the average PEG in the Nasdaq 100 has soared to nearly 3. The Nasdaq 100 is a collection of the 100 most valuable non-financial stocks in the Nasdaq.
Finding stocks where analysts and New Constructs agree isn't easy either. New Constructs looks for stocks that are trading for below the future value of expected cash flows. Analysts use discounted cash flow analysis, as well, but might factor in other variables as well.
The effort it takes to find attractively priced stocks underscores how the market has changed amid this Nasdaq rally. Now that the Nasdaq has soared back to 5000 – bargains are fewer and farther between. That's a scary thought for investors who remember the last time stocks got this high (they crashed).
But that doesn't mean all stocks are scary high. Take Sandisk, for instance. The maker of memory for computers and smartphones is in a high growth industry. The company's earnings have hit a pothole. Adjusted earnings for the fourth quarter fell 24% during the fourth quarter. That's been priced into the stock, though, analysts say. Shares are only up 6% over the past year, while the rest of the Nasdaq 100 has jumped nearly 20% during that period. That creates opportunity. Analysts say this stock, which closed Tuesday at $75.81 a share, has 14% potential upside before hitting the 18-month target. And New Constructs calls the stock "attractive."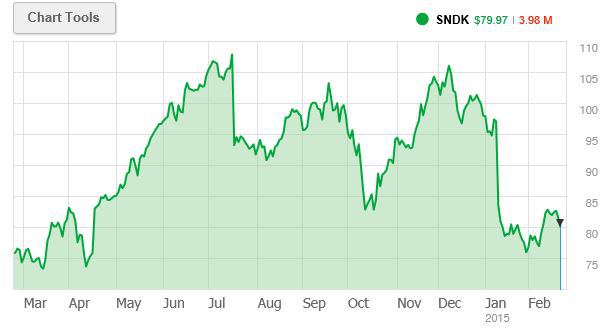 Stocks don't have to be laggards to be bargains. Take the example of automotive parts seller O'Reilly Automotive (ORLY). The company's stock is up 35% over the past year – but analysts still see 3.4% upside. And New Constructs calls it "attractive."
True, 3.4% is hardly a screaming upside. Investors should probably look for more of a potential gain when taking on this kind of risk. And it goes without saying that all these data and analysis could be wrong – there's no guarantee these stocks will rise – despite looking attractive on paper.
But that's the issue: Finding bargains is getting tougher as the Nasdaq nears its past zenith. It just takes a little more digging.
NASDAQ STOCKS WITH COMPELLING VALUATIONS ACCORDING TO ANALYSTS
| | | | | |
| --- | --- | --- | --- | --- |
| Company | Symbol | PEG ratio | Distance to target | N.C. rating |
| SanDisk | SNDK | 0.66 | 14% | Attractive |
| Gilead Sciences | GILD | 0.69 | 13.5% | Attractive |
| Viacom | VIAB | 1.06 | 10.1% | Attractive |
| PACCAR | PCAR | 1.29 | 8.2% | Attractive |
| O'Reilly Automotive | ORLY | 1.41 | 3.4% | Attractive |
| Western Digital | WDC | 1.39 | 9.5% | Very attractive |
| Qualcomm | QCOM | 1.28 | 3.8% | Very attractive |
Sources: S&P Capital IQ, USA TODAY research, NewConstructs