Qualcomm Inc QCOM is scheduled to report fourth-quarter fiscal 2017 numbers on Nov 1, after the closing bell.
In the last four quarters, the company's earnings were in line with the Zacks Consensus Estimate in two, while surpassing the same in the remaining two quarters, with an average beat of 6.49%.
Let's see how things are shaping up for this announcement.
Factors at Play
The company, one of the largest manufacturer of wireless chipset based on baseband technology, has been facing regulatory proceedings of late. The company continues to face charges due to unfair business practices and licensing royalty payments. Qualcomm settled a licensing dispute with BlackBerry Limited (BBRY) by paying $940 million. Meanwhile, the ongoing $1-billion lawsuit dispute with tech giant Apple Inc AAPL is getting bitter, which is affecting the company's margins.
Aggressive competition in the mobile phone chipset market has been affecting Qualcomm's profits. The company faces competitive threats from its closest rival, Intel Corporation. Intel has been redesigning its chipsets for the mobile computing market. It is to be seen whether such factors dent Qualcomm's sales in the fourth quarter.
On the flip side, Qualcomm's updated Snapdragon processors and applications look impressive and will aid the company to retain leadership in the global wireless baseband chipset market. Qualcomm is teaming with Verizon Communications Inc VZ and Novatel Wireless for 5G NR mmWave technology trial. This marks Qualcomm's leadership in 5G, chipset market and mobile connectivity. Qualcomm is extending cash tender offer for its pending NXP Semiconductor deal.
Moreover, the company's foray into areas like automotive, networking and mobile computing are favorable for growth prospects. We expect such strategic business moves to improve Qualcomm's chipset sales in the to-be-reported quarter.
We are hopeful about the company's prospects in the to-be-reported quarter based on certain non-financial metrics of the company, per the Zacks Consensus Estimate. Total number of chipset-enabled devices to be sold in the fourth-quarter 2017 is around 56 million. Qualcomm is estimated to ship approximately 216 million CDMA-based MSM (Mobile Station Modem) chipsets in the quarter under review as against 187 million reported in the previous quarter.
We are also impressed with the company's efforts to offer a quarterly cash dividend of 57 cents per common share, payable on Dec 15, to stockholders of record at the closure of business on Nov 29.
On the back of such positives, shares of Qualcomm have returned 2.6% as against the industry's decline of 2.8%.

Earnings Whispers
Our proven model does not conclusively show that Qualcomm is likely to beat earnings this quarter. This is because a stock needs to have a positive Earnings ESP and a Zacks Rank #1 (Strong Buy), 2 (Buy) or 3 (Hold) for this to happen. That is not the case here, as you will see below.
Zacks ESP: Qualcomm has an Earnings ESP of 0.00%. This is because the Most Accurate estimate and the Zacks Consensus Estimate are pegged at 81 cents. You can uncover the best stocks to buy or sell before they're reported with our https://www.zacks.com/premium/esp-buy?adid=zp_article_espfil...">Earnings ESP Filter.
Zacks Rank: Qualcomm currently carries a Zacks Rank #3 which increases the predictive power of ESP. However, the company's 0.00% ESP makes surprise prediction difficult.
We caution against stocks with a Zacks Rank #4 or 5 (Sell rated) going into the earnings announcement, especially when the company is seeing negative estimate revisions.
QUALCOMM Incorporated Price and EPS Surprise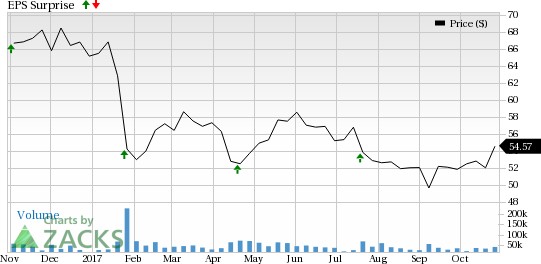 QUALCOMM Incorporated Price and EPS Surprise | QUALCOMM Incorporated Quote
Key Pick
Here is a company in the broader Computer and Technology sector — which houses Qualcomm — that has the right combination of elements to deliver an earnings beat this quarter.
Windstream Holdings Inc WIN has an Earnings ESP of +12.55% and carries a Zacks Rank #3. You can see https://www.zacks.com/stocks/buy-list/?ADID=zp_1link&ICI... _1link">the complete list of today's Zacks #1 Rank stocks here.
The company is expected to release third-quarter 2017 earnings on Nov 6. The company's earnings beat the Zacks Consensus Estimate in one of the previous four quarters.
Zacks' Best Private Investment Ideas
While we are happy to share many articles like this on the website, our best recommendations and most in-depth research are not available to the public.
Starting today, for the next month, you can follow all Zacks' private buys and sells in real time. Our experts cover all kinds of trades… from value to momentum . . . from stocks under $10 to ETF and option moves . . . from stocks that corporate insiders are buying up to companies that are about to report positive earnings surprises. You can even look inside exclusive portfolios that are normally closed to new investors.
Click here for Zacks' private trades >>
Want the latest recommendations from Zacks Investment Research? Today, you can download 7 Best Stocks for the Next 30 Days.
Click to get this free report
QUALCOMM Incorporated (QCOM): Free Stock Analysis Report
Verizon Communications Inc. (VZ): Free Stock Analysis Report
Apple Inc. (AAPL): Free Stock Analysis Report
Windstream Holdings, Inc. (WIN): Free Stock Analysis Report
To read this article on Zacks.com click here.
Zacks Investment Research