Despite headlines proclaiming better-than-expected earnings Gilead is collapsing this morning (down around 10%) on the heels of concerns that drug discounts were larger than expected (and thus 2015 revenue expectations will be lower). This has dragged the Broad Biotech index down by the most since Dec 23rd and all the way down to the key 50-day moving average.
Gilead is tumbling...
As Bloomberg reports,
Shares of Gilead Sciences Inc. dropped after the world's biggest biotechnology company forecast 2015 revenue that will be weighed down by discounts for its blockbuster hepatitis C drugs.

 

Product sales this year will be $26 billion to $27 billion, said Foster City, California-based Gilead. Analysts had projected $28.5 billion on average for revenue. Discounts in the U.S. for Harvoni and Sovaldi, which treat the liver virus, will climb to an average of 46 percent this year from 22 percent in 2014.

 

The average discount "took investors by surprise and is higher than consensus of 25 to 30 percent or so," said Michael Yee, a San Francisco-based analyst at RBC Capital Markets, in an e-mail.
DraggingBiotechs to the key 50DMA with the biggest drop sicne Dec 23rd...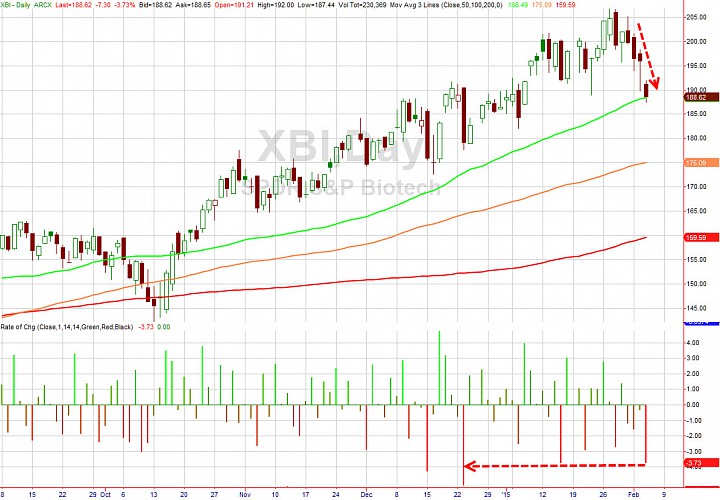 What is perhaps just as fascinating is that Gilead tried to defend this weakness by announcing a share buyback... strongly suggesting (implicitly at least) that merger mania is over...