Allergan plc AGN will be reporting second-quarter 2017 earnings on Aug 3, before the market opens. Last quarter, the company delivered a positive earnings surprise of 0.90%.
Allergan's share price is up 20.5% this year so far, outperforming the 0.4% increase witnessed by the industry.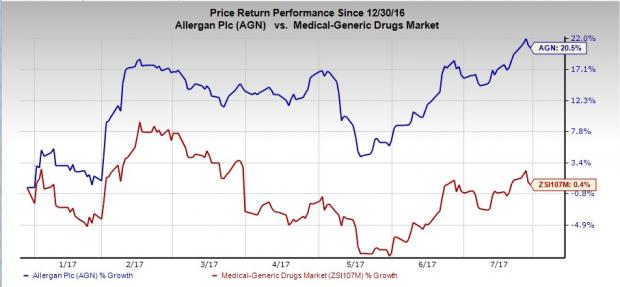 Allergan's earnings performance has been mixed so far, with the company beating expectations in three of the past four quarters and missing on one occasion. The average negative earnings surprise over the last four quarters is 0.27%.
Let's see how things are shaping up for this announcement.
Factors to Consider
While revenues are likely to be driven by new product launches, international growth and growth from key established products like Botox, Linzess, Restasis, earnings growth will likely be driven by revenues and operating expense management.
The performance of new products like Avycaz (treatment for adult patients with complicated intra-abdominal and urinary tract infections), Vraylar (bipolar I disorder and schizophrenia), Kybella (double chin reduction) and Viberzi (adults suffering from irritable bowel syndrome with diarrhea) will also be in focus. Viberzi, and Vraylar did well in the past three quarters and we expect the trend to continue in the soon-to-be-reported quarter as well. Viberzi was approved in Canada in May this year, which is likely to contribute to sales.
However, Namenda IR is facing generic competition, which will continue to hurt sales of the drug. Namenda XR sales also declined in the previous quarters due to lower demand and shift of promotional efforts to Namzaric is a once-daily, fixed-dose combination of Namenda XR and Aricept. Investors will be interested to hear about Namzaric's performance in the quarter. At the first quarter conference call, management had mentioned that Namzaric sales are benefitting from increased use of combination therapy as patients are transitioning from monotherapy Aricept to Namzaric.
Asacol/Delzicol sales will also continue to be hurt by reduction in demand for Ascaol HD, following the launch of an authorized generic in Aug 2016. Minastrin 24 revenues are also likely to be hurt by loss of exclusivity in Mar 2017.
Meanwhile, recent acquisitions of LifeCell (closed in Feb) and Zeltiq Aesthetics (closed in Apr) should support the top line in the quarter.
At the first-quarter call, the company had hinted that operating margins will improve in the remaining quarters of the year as revenues grow.
For the second quarter, the company expects revenues of approximately $33.9 billion to $4 billion. SG&A expenses are expected to be the highest in the second quarter due to continued strong promotion of key brands, the addition of Zeltiq, and the launch of Rhofade cream for rosacea.
Earnings Whispers
Our proven model does not conclusively show that Allergan is likely to beat on earnings this quarter. This is because a stock needs to have both a positive http://www.zacks.com/earnings/earnings-surprise-predictions/">Earnings ESP and a Zacks Rank #1 (Strong Buy), 2 (Buy) or 3 (Hold) for this to happen. That is not the case here, as you will see below.
Zacks ESP: The Most Accurate estimate stands at $3.94, while the Zacks Consensus Estimate is pegged higher at $3.95. This results in an Earnings ESP of -0.25%. You can uncover the best stocks to buy or sell before they're reported with our Earnings ESP Filter.
Zacks Rank: Allergan's Zacks Rank #3 increases the predictive power of ESP. However, we need to have a positive ESP to be confident about an earnings beat.
We caution against Sell-rated stocks (Zacks Rank #4 or 5) going into the earnings announcement, especially when the company is seeing negative estimate revisions.
Allergan PLC. Price and EPS Surprise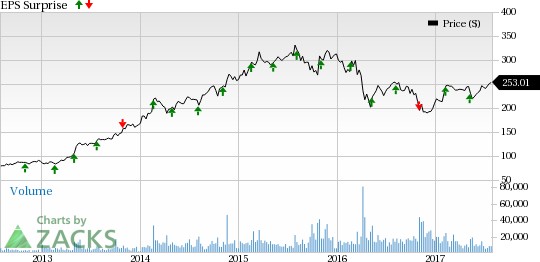 Stocks to Consider
Some stocks in the pharmaceuticals sector that have a positive Earnings ESP and a favorable Zacks Rank are:
Novo Nordisk A/S NVO, scheduled to release results on Aug 9, has an Earnings ESP of +3.57% and a Zacks Rank #3. You can see the complete list of today's Zacks #1 Rank stocks here.
Pfizer, Inc. PFE has an Earnings ESP of +1.54% and a Zacks Rank #3. The company is scheduled to release results on Aug 1.
Mallinckrodt Public Limited Company MNK is scheduled to release results on Aug 8. The company has an Earnings ESP of +0.58% and a Zacks Rank #3.
More Stock News: 8 Companies Verge on Apple-Like Run
Did you miss Apple's 9X stock explosion after they launched their iPhone in 2007? Now 2017 looks to be a pivotal year to get in on another emerging technology expected to rock the market. Demand could soar from almost nothing to $42 billion by 2025. Reports suggest it could save 10 million lives per decade which could in turn save $200 billion in U.S. healthcare costs.
A bonus Zacks Special Report names this breakthrough and the 8 best stocks to exploit it. Like Apple in 2007, these companies are already strong and coiling for potential mega-gains. Click to see them right now >>
Want the latest recommendations from Zacks Investment Research? Today, you can download 7 Best Stocks for the Next 30 Days.
Click to get this free report
Pfizer, Inc. (PFE): Free Stock Analysis Report
Allergan PLC. (AGN): Free Stock Analysis Report
Novo Nordisk A/S (NVO): Free Stock Analysis Report
Mallinckrodt PLC (MNK): Free Stock Analysis Report
To read this article on Zacks.com click here.
Zacks Investment Research