Editor's Note: Tech Talk next report will be published November 16th
StockTwits released yesterday @equityclock
Technical action by S&P 500 stocks to 10:15 AM EST: Quietly mixed. Breakouts: $RL, $HES, $SYMC. Breakdowns: $AVP, $HCP, $WRK
Editor's Note: After 10:15 AM, Baker Hughes and Qualcomm broke support.
Nice breakout by $CNQ.CA above $32.69 to complete a reverse head and shoulders pattern!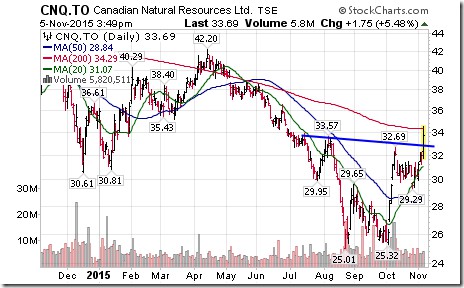 Nice breakout by $AGU above US $98.05 to complete a base building pattern!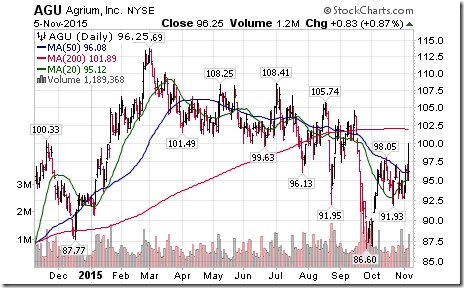 Tis the season for strength in Agrium! $AGU $AGU.CA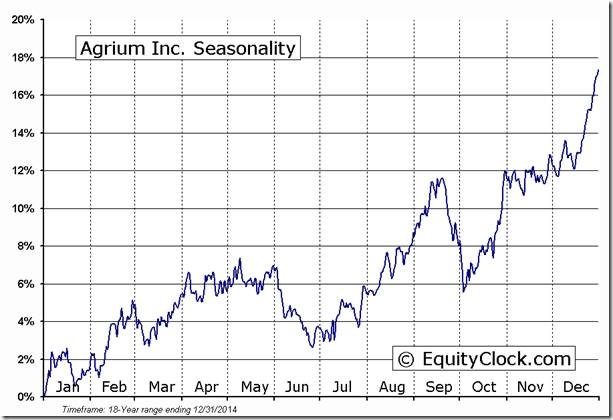 Congratulations to Horizons Seasonal Rotation Fund (HAC)
The fund won the Lipper Award for Alternative Strategies during the past 3 years (ending July 31st) ranking first out of six eligible ETFs.
Trader's Corner
Daily Seasonal/Technical Equity Trends for November 5th 2015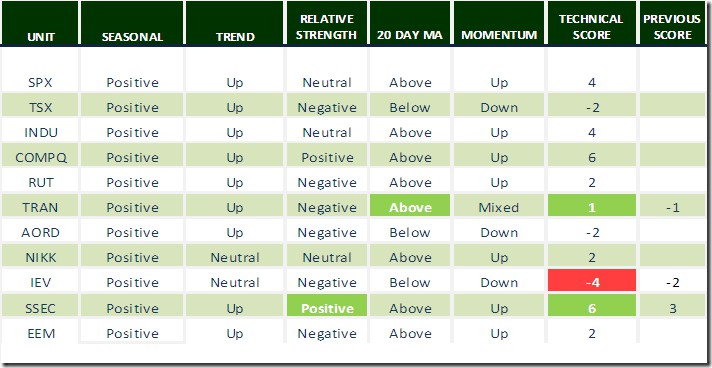 Green: Increase from previous day
Red: Decrease from previous day
Daily Seasonal/Technical Commodities Trends for November 5th 2015
Green: Increase from previous day
Red: Decrease from previous day
Daily Seasonal/Technical Sector Trends for November 5th 2015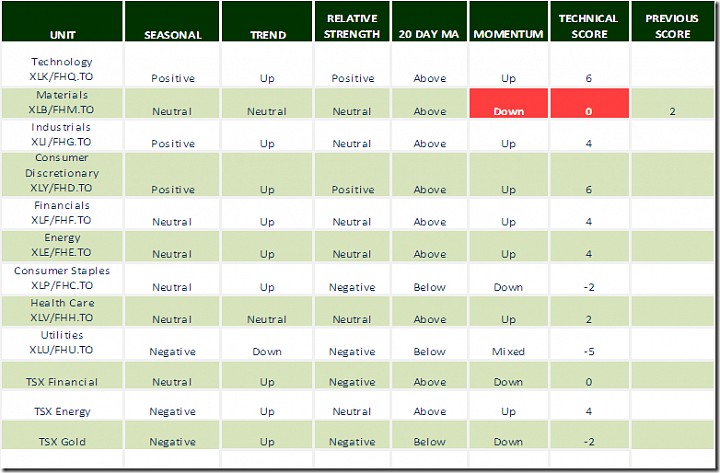 Green: Increase from previous day
Red: Decrease from previous day
Special Free Services available through www.equityclock.com
Equityclock.com is offering free access to a data base showing seasonal studies on individual stocks and sectors. The data base holds seasonality studies on over 1000 big and moderate cap securities and indices. To login, simply go to http://www.equityclock.com/charts/
Following is an example: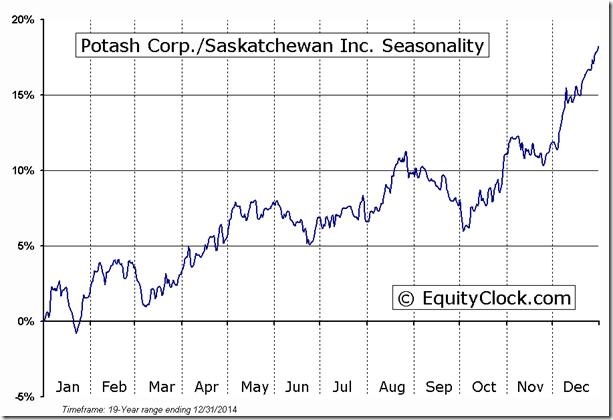 Adrienne Toghraie's "Trader's Coach" Column

The Candy Store Trader
By Adrienne Toghraie, Trader's Success Coach
A few times in my career as a trader's success coach I have met traders who act as if the markets are a candy store. They love all markets and many strategies and they cannot decide on which one to choose. These traders very often cannot see why they are not successful. After all they have knowledge enough for 10 trading careers.
Peter loves the markets and loves all parts of the markets
When I asked Peter who he studied with in trading, his list seemed endless with some of the better known teachers as well as people who I had never heard of. Then I asked him if he had a system or methodology that would earn good profits if he could follow it. He said, "Absolutely, yes." I followed my line of questions asking him to tell me about his strategy to which he said, "Which one?"
I came to find out that Peter never earned money in the markets, but he was sometimes good at simulation. He just could not stick to one commodity and strategy long enough to see if it worked.
When Peter was a child, he had to adjust to many changes when his family moved often in order for his dad to find work. Adapting to change became a way of life and how he approached his trading. He made it work by keeping the friends he made over the years and adapting to his new environments quickly.
I asked Peter if he needed and wanted to keep on his present course or earn money as a professional trader. He chose the money.
Bottom-line for Peter
This is how I coached Peter. He had to:
· Focus on one commodity and strategy
· Be willing to forsake all other commodities and strategies
· Stop reading any strategy books, go to any chat rooms, or listen to any webinars
· Put this strategy in a business plan and send it to me
· Trade in simulation for only two weeks
· Trade for only 2 hours a day until he consistently followed his rules and was earning a profit
· Punish himself for not following his rules by stopping his trading for a day if he broke his rules
· Reward himself at the end of the week with a date with his wife if he followed his rules
The minute Peter got home he called to tell me that he was not sure that he had picked the right commodity or strategy. I reminded him about his agreement. Reluctantly, he said that he would do whatever it took. It took several more similar phone calls.
Peter made money within those 3 months and learned the lessons he needed to improve his strategy. The second 3 months he consistently made money, but still misses those other strategies.
Conclusion
While it is important that you understand the markets as a whole, you will confuse yourself by studying too many strategies. Focus, plan and execute one strategy until you have mastered it and you will more likely become a profitable trader.
Free Newsletter
More Articles by Adrienne Toghraie, Trader's Coach
Sign Up at – www.TradingOnTarget.com
Disclaimer: Seasonality and technical ratings offered in this report by www.timingthemarket.ca and www.equityclock.com are for information only. They should not be considered as advice to purchase or to sell mentioned securities. Data offered in this report is believed to be accurate, but is not guaranteed.