In what may pass as one of the more lucid recent arguments to come out of Erdogan's mouth in a while, on Friday morning in the latest war of words back and forth, the Turkish Dictator President said he will not back down and promised to keep calling European leaders "Nazis" as long as they keep calling him a "dictator."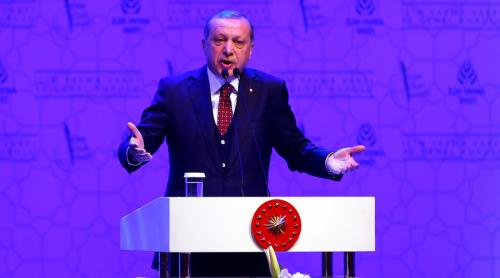 "How does this work, you have the right to call Erdogan a 'dictator' but Erdogan doesn't have the right to call you 'fascist' and 'Nazi?'" the Turk said in an interview with CNN-Turk and Kanal D television channels. "They accuse me then they speak of Erdogan as a 'dictator,'" he said quoted by AFP, referring to himself in his favorite, third person voice. 
"So I'll continue to address them in these terms," the defiant Turk - with over 2 million Syrian refugees as leverage - said.
Earlier in March, Erdogan unleashed a diplomatic scandal when he branded Dutch officials as "Nazi remnants," after the government withdrew permission for Turkey's foreign minister to speak at a pro-Erdogan rally in Rotterdam. He has also slammed a number of local officials for cancelling similar political rallies for Turkish ex-pats in German cities that had been scheduled in March. The speakers were going to promote the upcoming mid-April referendum on constitutional changes that could see Erdogan's presidential powers expanded.
At a rally in Istanbul on Sunday, Erdogan once again labelled some European leaders "Nazis," saying they "would revive gas chambers" if they weren't so ashamed. To add fuel to the fire, Erdogan turned his sights to German Chancellor Angela Merkel. "When we call them Nazis, they get uncomfortable. They rally together in solidarity. Especially Merkel," he said. "Merkel… She backs [the Netherlands], too. You too are practicing Nazi practices. On whom? On my Turkish brothers and sisters in Germany," the Turkish leader added.
Erdogan also shocked listeners this past Wednesday when he said people in Europe would not be able to "walk safely" on the streets if they did not change their current attitudes. "If Europe continues this way, no European in any part of the world can walk safely on the streets. We, as Turkey, call on Europe to respect human rights and democracy," Erdogan said in Ankara, Reuters reported.
Previously, Erdogan's remarks were slammed by Germany's new president, Frank-Walter Steinmeier, who said Erdogan risks wrecking everything Ankara has recently achieved. "The way we look [at Turkey] is characterized by worry that everything that has been built up over years and decades is collapsing," Steinmeier said during his inaugural speech on Wednesday.
"President Erdogan, you are jeopardizing everything that you, with others, have built," he noted, urging the Turkish leader to immediately "end the unspeakable Nazi comparisons!"
Erdogan said he "deplored" Steinmeier's comments. "German President Steinmeier made a statement targeting me although we are good friends. I deplore him for his statement. I wish he had never made such a statement," he said, Turkey's Hurriyet news reported.
Stating that he has no plans to visit Germany before the referendum, Erdogan noted that his "Nazi" remarks for the Netherlands and Germany were appropriate.
"If I criticize Germany, I say this within its definition. If I say this by using the Nazi comparison, I say within its definition. I also say the same thing for the Netherlands. You will not allow my minister into the [Rotterdam] consulate and you will make your dogs bite my citizens… Where is international law? Then you are disturbed when we say Nazism," he said.
While Turkey has certainly lost any chance it may have had of ever entering the EU, the one question on everyone's lips is if and when will Erdogan, pushed to the limit if only in his mind, finally release the 2+ million Syrian refugees currently held by Turkish borders, launching the second, and far greater, European refugee crisis in the process sending Europe's nationalist and populist parties right into positions of power.