US GDP at 0.1% in Q1
(annualized) missed forecast and was the at slowest growth rate since Q4 2012. This was really bad considering that without Obamacare spending, the GDP rate would have been negative.
Canadian GDP m/m was 0.2% in February
. This is not a timely release. It was inline with expectations, but fell from the 0.5% in January. This is not an impressive report, but was relatively better than the US counterpart.
The USD/CAD
was in a sharp slide during the 4/29 session breaking below 1.10 and coming down to the 1.0942 level before finding an intra-session base. You can say there's a double bottom in the 1H chart.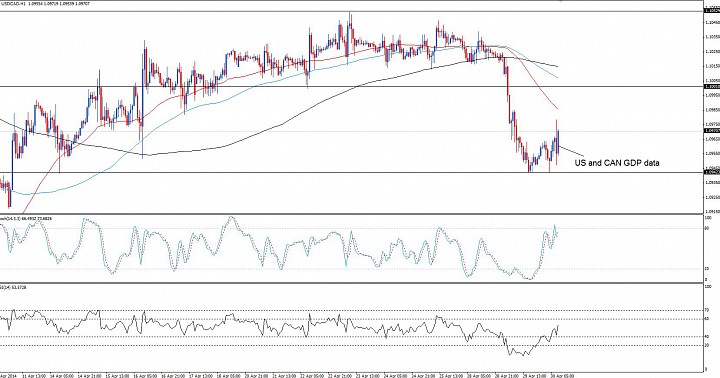 (usdcad 4/30)
1.10:
Because of the heavy downswing, a pullback should have limited expectation in the near-term, maybe to 1.10. A bearish market might provide resistance because it has been a key pivot since late March. 
Reaction Respects Double Bottom:
The 1H chart shows that the market was coming up from the double bottom, but the poor US GDP data, and in-line Canadian GDP data gave it a shake. However the shake respected the double bottom and traders continued to push up the USD/CAD. 
The FOMC monetary policy
statement
at 2:00PM is the next key event risk. Don't expect too much from USD/CAD before that, but see which side of 1.10 it will wind up after the release and the 4/30 session.