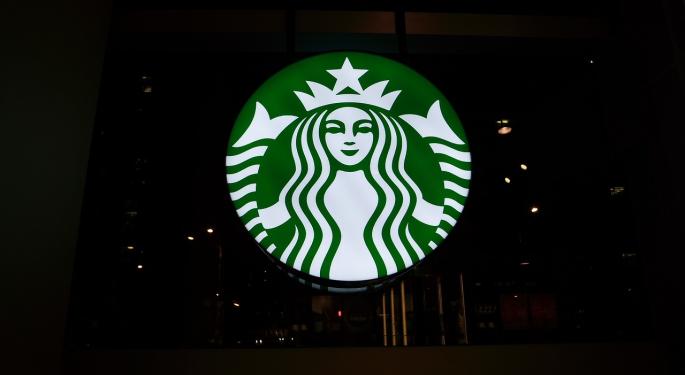 According to the latest data from TickerTags, Starbucks Corporation NASDAQSBUX is struggling to gain social media traction for its Starbucks Evenings roll-out. Starbucks began a wide expansion of its beer and wine service this year, but the service has so far generated lackluster social media buzz.
TickerTags monitors social media sites to identify trends by searching for words and phrases that appear together in social media content, such as tweets.
Starbucks has expanded Starbucks Evenings from 70 locations in the fall of 2015 to 443 locations as of mid-2016. Unfortunately, social media conversations about the program have remained stagnant. Despite a 500 percent increase in the number of Starbucks Evenings locations, the number of tweets containing the words "beer" and "wine" with "Starbucks" has remained relatively low.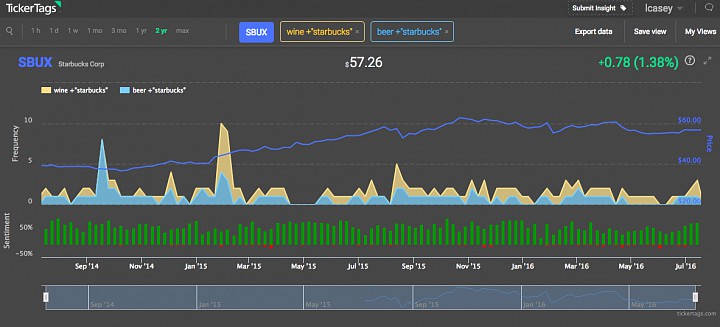 To make matters worse for Starbucks and its investors, social media mentions of Starbucks in general have been on the decline. In the first half of 2016, the number of tweets mentioning Starbucks was down 34 percent compared to last year.
In that same time, Starbucks' stock is up 2.5 percent.
Starbucks investors are hoping the company's lack of social media buzz won't impact its bottom line when it reports Q2 earnings after the market close on Thursday.
Did you like this article? Could it have been improved? Please email feedback@benzinga.com with the story link to let us know!
Disclosure: The author holds no position in the stocks mentioned.
Date
Firm
Action
From
To
Jul 2016
OTR Global
Downgrades
Postive
Mixed
May 2016
Goldman Sachs
Maintains
Buy
Apr 2016
Goldman Sachs
Maintains
Buy
© 2016 Benzinga.com. Benzinga does not provide investment advice. All rights reserved.