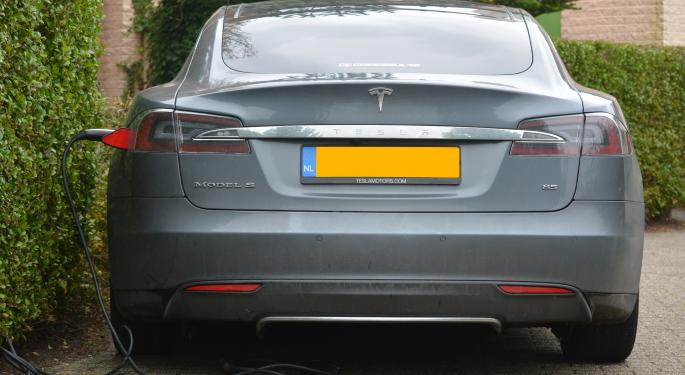 Tesla Motors Inc TSLA 3.57% CEO Elon Musk laid out part two of his "master plan" for Tesla on Wednesday, and Wall Street wasn't impressed. Musk's document played to his visionary strengths but did little to ease concerns over the company's finances.
Musk's plan included plans for a commercial truck, a public bus, small SUV's, a pickup and an extension of Tesla's core business to provide carbon-free energy products and services beyond electric cars and batteries.
Tesla shares traded down 4 percent at $219.19 Wednesday afternoon.
What it didn't include was how the company plans to pay for the plan.
"The plan is like before – or like much of what Tesla does – long on exciting visions of the future and short on financial details," Barclays analyst Brian Johnson explained. Unfortunately, investors are very keen on financial details, especially when the company burned more than $2.1 billion in 2015.
Barclays maintains an Underweight rating on Tesla and a $165 price target for the stock.
UBS analyst Colin Langran was also not wowed by the presentation. Much of what Musk discussed UBS has already been anticipating, such as autonomous vehicles, a pickup truck and shares cars. While the heavy truck was a surprise, Musk's plan still left UBS with more questions than answers, particularly when it comes to the potential merger with SolarCity Corp SCTY 1.97%.
"Given investor caution around the SCTY deal (stock traded down ~10% on the news), we are surprised by the lack of new details on the solar/storage combo," Langran writes.
UBS maintains a Sell rating on Tesla and a $160 price target.
Related Link: Tesla Springs No Surprises With Secret Master Plan Part 2; UBS Maintains Sell
RBC Capital analyst Joseph Spak appreciates Musk's vision for the future, but he believes the stock's share price will be tied to the company's ability to hit targets.
RBC maintains a Sector Perform rating on Tesla and a $210 price target.
Goldman Sachs analyst Patrick Archambault remains optimistic.
"We are Buy rated TSLA with a $240, 6-month price target based on our five probability weighted automotive scenarios plus stationary storage optionality, all of which enbed a 20% cost of capital," Archambault explains. He notes that Musk's plans to move toward sustainable transportation, shared mobility and new types of vehicles were all widely-anticipated, but Goldman was surprised by the number of new vehicle types were included in the plan.
Disclosure: the author holds no position in the stocks mentioned.
| Date | Firm | Action | From | To |
| --- | --- | --- | --- | --- |
| Jun 2016 | Argus Research | Downgrades | Buy | Hold |
| Jun 2016 | Standpoint Research | Upgrades | Sell | Hold |
| Jun 2016 | Morgan Stanley | Downgrades | Overweight | Equal-weight |
© 2016 Benzinga.com. Benzinga does not provide investment advice. All rights reserved.
Source