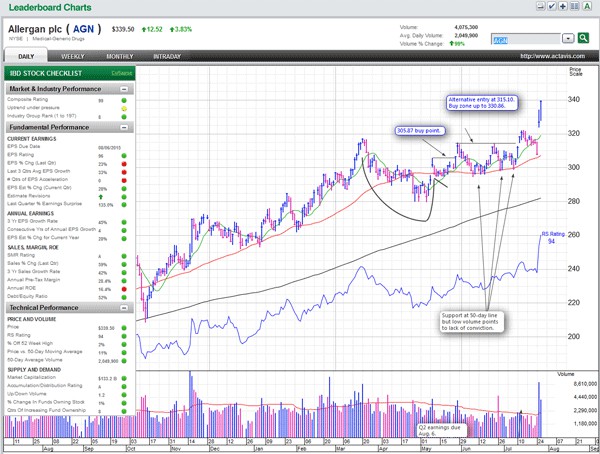 Biotechs, generic-drug makers and ethical-drug makers are some of the highest-ranked industry groups among the 197 that IBD tracks, and with recent view-topping earnings reports, FDA approvals and strategic divestments, they're proving their strength.
Five hot drug stocks lead IBD's Screen Of The Day, Big Cap Leaders: Gilead Sciences (NASDAQ:GILD), Jazz Pharmaceuticals (NASDAQ:JAZZ), Allergan (NYSE:AGN), Regeneron Pharmaceuticals (NASDAQ:REGN) and Mallinckrodt (NYSE:MNK).
Gilead reported estimate-beating Q2 results after the close Tuesday. Earnings rose 33.5% to $3.15 a share, crushing views by 44 cents. Revenue climbed 26% to $8.24 billion, about $800 million ahead of estimates. The biotech also raised its full-year guidance for product sales.
Shares popped 3.2% in after-hours trading in the stock market today. Gilead rose 2.3% during the...
More