Kudos to the 4 banks out of 70 that were polled by Bloomberg that made the right call on the ECB - which has
cut its benchmark interest rate to 0.25% from 0.50%
. The move therefore comes as a surprise, despite some pricing in of the higher possibility of a rate cut last week.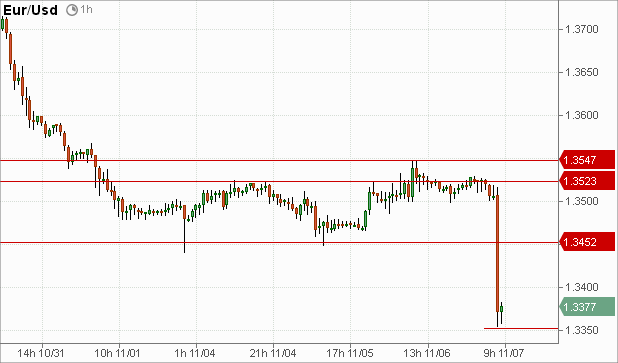 As a result we are seeing the EUR sliding across the board with the EUR/USD pair breaking out of its sideways range of the last 3 session to the downside. It has found initial support near 1.3335 and the key question now will be the words of ECB President Draghi, and whether we have further follow through (1.3230 is a good pivot to consider and the 200-daily SMA), or if we retrace back to 1.3450 from which we slide again.
Going beyond today, the news will surely impact things from fundamental (yield differential), technical (lots of snapped trendlines and broken support levels in EUR crosses), and sentiment (risk-on as a result of more central bank stimulus) factors.