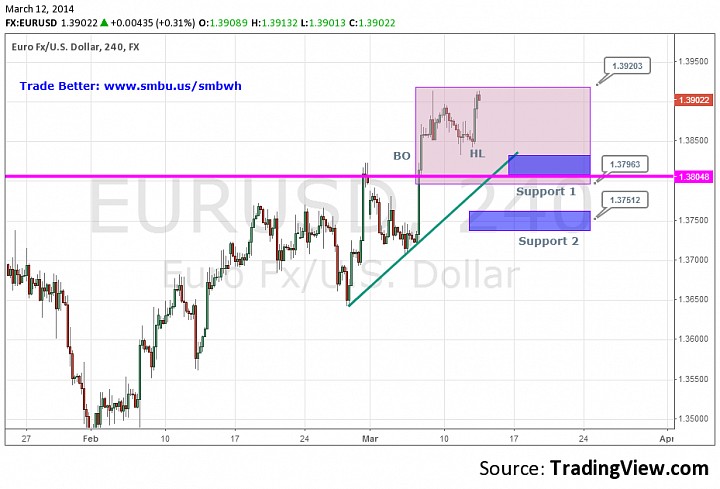 ---
Trade better:
http://smbu.us/smbwho
---
The EUR/USD price action has confirmed broader trend bullishness.  The best levels for buying opportunities are 1.3800 and 1.3750 areas.
---
The new highs into the 1.3900s confirm broader strength in this pair.  The higher low (HL) on the 4 hour time frame above further supports this argument.  This breakout has been sustained and as the market moves forward I will be looking for day trade long opportunities.
---
Over the next 5 - 10 days, if the price can retrace back to 1.3800, I will be looking for bullish price action to validate a day trade long at that level.  1.3800 was a historical resistance and whole number which makes it an attractive support for buyers.  
---
If 1.3800 is compromised, I will then look to the 1.3750 area support to validate a day trade long as well.  Any sustained break below 1.3700 will void these day trade long scenarios and I will start considering broader supports for potential swing trade opportunities at that point.
---
From the bearish perspective, price action is still within a resistance zone as determined by my methodology. The higher low points to the break out to continue to new highs so even though we are at resistance, shorting offers low potential trades at this point.  The only way I would consider a short is if we can see more compelling price structures in the 1.3950 to 1.4000 area and it would be for scalping only (low expectation profit targets). 
---
To learn more about how I conduct analysis and manage trades, visit
http://smbu.us/smbwho