The USD/CAD has been choppy in 2014. After rallying a low around 1.06 to start the year, the pair rallied to 1.1278 by March before retreating to 1.0620 by June. Then after this support, USD/CAD rallied above a falling trendline, and the 200-, 100-, and 50-day simple moving averages. Note that the RSI also pushed above 70, showing bullish momentum. 
USD/CAD Daily Chart 9/9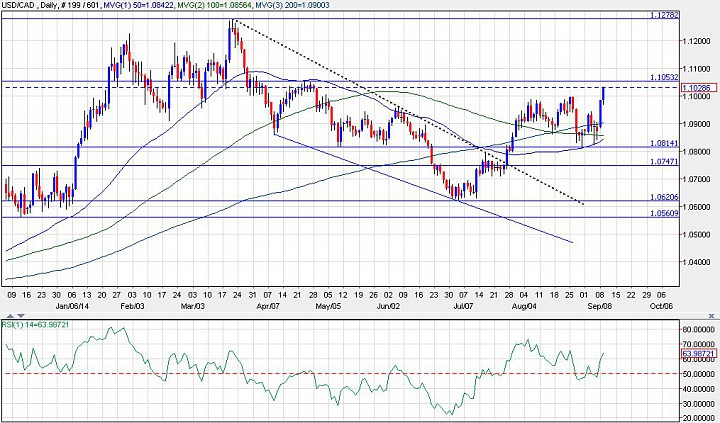 (click to enlarge)

Then, USD/CAD stalled under 1.10. After a month of consolidation in August, price held above the cluster of SMAs. This crossover, pullback, then respect of the SMAs as support is a bullish slingshot signal. Also, the fact that the RSI held above 40 after tagging above 70 reflects bullish momentum, and suggests bullish continuation ahead.

As we get into the 9/9 US session, we are seeing exactly this, a bullish continuation with the 1.0153 resistance pivot in sight for the near-term. A break above 1.1055 then opens up the high on the year around 1.1278.