Fitbit (NYSE: FIT) is set to announce its third-quarter earnings on Nov. 1 after market close. With the fitness tracker company in the middle of a rebuilding year and the stock significantly trailing the market, some investors are getting impatient to see positive signs from the company. And with its long-awaited smartwatch in the market and its promising enterprise health initiatives, investors will be looking to this quarterly report to see if Fitbit is on the mend.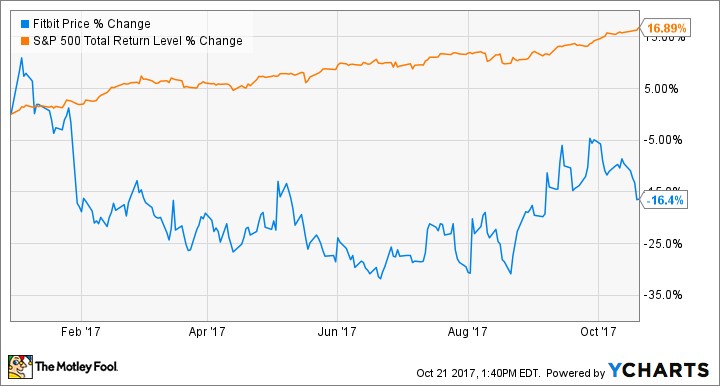 Here are three questions investors should be asking.
Are customers embracing the new smartwatch?
Fitbit's new smartwatch, the Ionic, was announced on Aug. 28. I preordered one that day and it arrived Sept. 25, with the device hitting retail stores in October. Fitbit's quarter closed on Sept. 30, so there will be some Ionic revenue in the quarterly report. However, Chief Operating Officer Bill Zarella said in the last earnings call that a "vast majority of our revenue in Q3 [would be] related to legacy products."
On the same earnings call, CEO James Park indicated that there's "good retailer commitment behind the launch of the product." The management team certainly was excited about the new product and confident in its prospects, even though it had not been unveiled yet. When the smartwatch was finally announced, the stock responded favorably. Investors will want to pay attention to what management says about how the smartwatch is selling.
Can the company improve this key metric?
One number that Fitbit investors should keep an eye on is revenue per device sold. By taking the total revenue for the quarter and dividing by the number of devices sold, this ratio gives a good idea of how well the company is dealing with the challenge of commoditization and if it's making money beyond the price of the device.
Last quarter, the company was able to maintain its average selling price (ASP) and add almost $4 of incremental revenue per device for accessories. Zerella indicated that this quarter's ASP would be "similar" to Q2's, but with new accessories and Fitbit-branded headphones announced with the Ionic, accessory revenue could have a meaningful positive impact to this measure.
Lastly, additional revenue that is not associated with a device such as subscription revenue for the Fitstar fitness app or programs related the company's enterprise health initiatives could also help this metric improve.
Can the company earn revenue beyond the devices?
Earlier this year, Fitbit announced a corporate reorganization focusing the company as two separate but interdependent businesses: consumer and enterprise health. The enterprise segment will focus on "expand[ing] on the company's early successes in working with insurance companies, employers, health systems, and other healthcare partners." This segment has tremendous opportunity for growth, but has not yielded much revenue, with the company indicating just that it is less than 10% of overall revenue.
With announcements this quarter that the company was selected to participate in the FDA's new digital health software pre-certification program and a partnership with med-device manufacturer DexCom, I'll be looking for the company to report progress on this significant opportunity. It's important for the long-term health of the company that it can diversify beyond selling consumer tech devices.
With this earnings announcement in the books, Fitbit's self-proclaimed "rebuilding year" will be three quarters complete. Investors will be watching if Fitbit is creating solid building blocks for growth going into 2018.
10 stocks we like better than Fitbit
When investing geniuses David and Tom Gardner have a stock tip, it can pay to listen. After all, the newsletter they have run for over a decade, Motley Fool Stock Advisor, has tripled the market.*
David and Tom just revealed what they believe are the 10 best stocks for investors to buy right now... and Fitbit wasn't one of them! That's right -- they think these 10 stocks are even better buys.
Click here to learn about these picks!
*Stock Advisor returns as of October 9, 2017
Brian Withers owns shares of Fitbit. The Motley Fool owns shares of and recommends Fitbit. The Motley Fool has a disclosure policy.