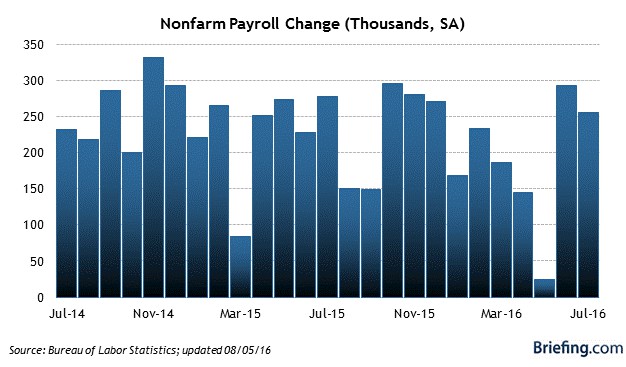 It's jobs day!  
On April 8th, we added 144,000 jobs and the S&P went from 2,045 to 2,060 to 2,040 and settled at 2,047.  On May 6th we added only 11,000 jobs and the S&P went from 2,047 to 2,057 to 2,039 and settled at 2,057.  On June 3rd we added 287,000 jobs and the S&P went from 2,104 (was the high) and fell to 2,085 and settled at 2,100.  
So, there's really not much of a pattern other than we're likely to finish where we started and we're starting the day at 2,163 and we've been in a very tight range and we can expect Non-Farm Payrolls to revert to the mean and come in around 160,000 jobs at 8:30.  What's more important is whether we make a little progress in the 4.9% Unemployment Rate – that has stopped going down lately.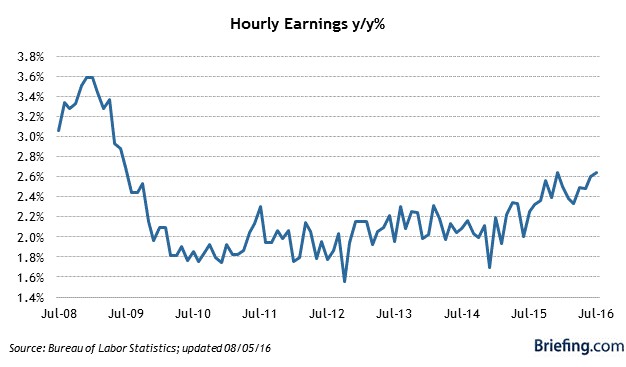 From a market standpoint, we'd like to see hourly earnings continue to rise because, if we're going to move towards any kind of sustainable recovery, we have to begin to put more money in the pockets of our bottom 90% consumers.  
Now the S&P is at 2,164 and that's up 6% since April and I don't see what job outcome would drive it higher than it is now.  Either way, we're going to be hedging a bit bearish into the weekend as the Olympics open tonight in Brazil, which is a country that's in political and economic turmoil and right next to Venezuela, which is a country on the verge of collapse.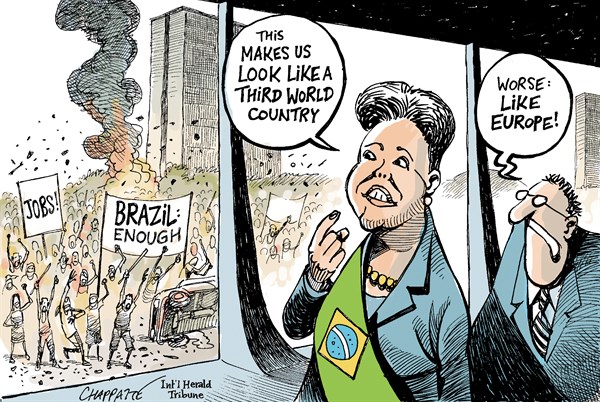 With 60,000 hours of TV coverage scheduled for the Olympics, I imagine the political and economic situation will get some air time and most people in the US are not aware of what sort of disaster is going on south of Trump's wall.
8:30 Update:  Wow, 255,000 jobs were created in July – a total blow-out, way beyond expectations.  Unemployment stayed at 4.9% indicating more and more people are coming back to the labor force, which is good and hourly earnings went up another 0.3% – also good.  The initial market reaction was a quick pop in the indexes, but only 0.25%, tempered by a stronger Dollar, which popped back over 96.

Still, keep in mind we tend to revert back to where we started and, of course, the big worry is that too many jobs being created will cause the Fed to finally raise rates.   On the whole though, I'm very pleased and this makes me longer-term bullish and I'll be excited to buy things – as long as we make it through August.  
After the Olympics, we have to deal with China and Japan's disastrous economies and, don't forget, Europe sucks too but America is already getting great again and Q3 and Q4 should be greatly improved by 3M new workers (2%) and a 2% bump in wages, which is just as good as hiring another 3M workers.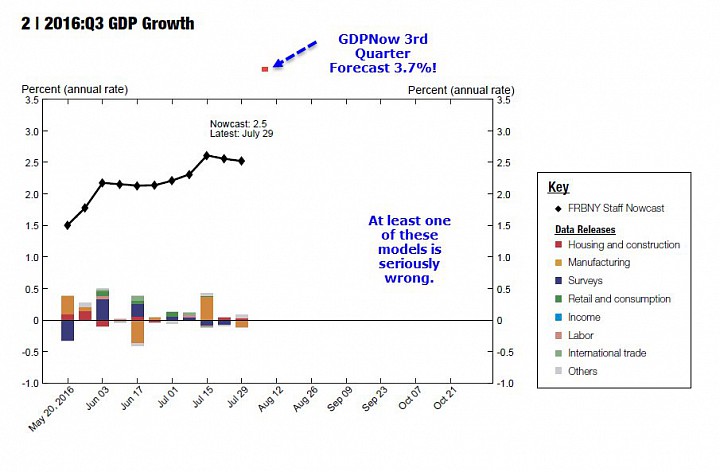 Though we made fun of it yesterday, the Atlanta Fed raised their GDP Now forecast for Q3 all the way to 3.7%.  While it seems like a bit of an over-reach to me (and most rational economists) we can assume they knew what this jobs number was and are extrapolating a best case.  3.7% is China-like growth – that would be very impressive but anything over 2.5% will be very nice in our $20Tn Economy as that's $500Bn growth or the entire GDP, which by itself is larger than all but 20 nations on the planet (10 Greeces, in fact)!  
On the whole, I may have been too pessimistic and we'll have to consider that next week.  This is another very strong jobs number and can't be brushed off as a fluke at this point so it may be time to add more longs to our Long-Term Portfolio for the first time all summer.
Meanwhile, we'll keep our hedges over the weekend – just in case things get messy in Brazil.  
Have a great weekend, 
- Phil
Provided courtesy of Phil's Stock World.
Would you like to read up-to-date articles on the day they are posted? Click here to become a part of our growing community and learn how to stop gambling with your investments. We will teach you to BE THE HOUSE - Not the Gambler!