U.S. stocks closed more than 1 percent higher Thursday as financial stocks rallied and mostly soft economic data supported the case for a rate hike delay. (http://cnb.cx/1LOQHr5&text=Dow closes up triple digits as rate hike expectations fade&via=CNBC"> Tweet This )
"This is the same story that we've had for so many years now as the market seems to be instinctively responding to the notion that we're going to have more stimulus (and) shrugging off questions on earnings," said Quincy Krosby, market strategist at Prudential Financial.
The Dow Jones industrial average and S&P 500 recovered to close above the psychologically key levels of 17,000 and 2,000, respectively, after closing below on Wednesday.
The major averages closed at or near session highs, with the Dow ending up 217 points. Goldman Sachs and Boeing contributed the most to gains. The greatest weight on the index was UnitedHealth, which recovered some losses to close about 1.5 percent lower. The firm's third-quarter earnings beat but guidance held steady.
Financials rose 2.3 percent to lead all sectors in the S&P 500 higher.
"There's a part of the market that's looking at the inflation story," Krosby said. She and other analysts also noted the sector has been beaten down in the last few weeks. Financials are 5.3 percent lower for the year so far, versus the S&P 500's year-to-date loss of 1.7 percent.
The Nasdaq composite outperformed, closing up 1.8 percent as the iShares Biotechnology Stocks ETF (IBB) leaped nearly 4.4 percent and Apple gained 1.5 percent.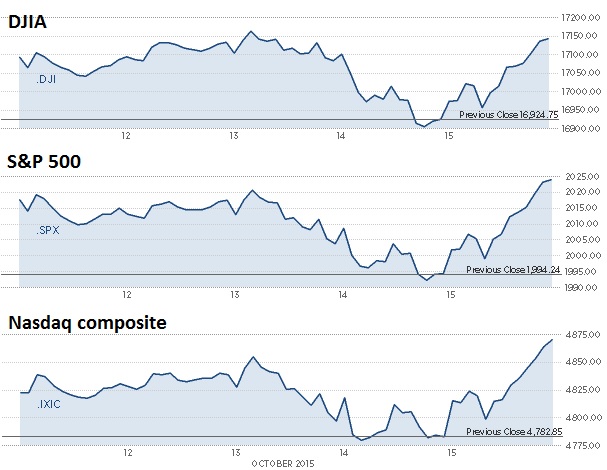 The Consumer Price Index out Thursday showed little inflation in the near-term, while retail sales barely rose Wednesday.
"One of the slightly disappointing things around the U.S. consumer is they haven't been spending ... at the rate that we thought they would," said Ben Pace, chief investment officer at HPM Partners. "There's been some downgrades to a lot of GDP forecasts at many of the Wall Street firms, but when we take it to the markets anything that seems to delay a rate hike is viewed favorably."
"I think the markets are trading on a daily basis on the daily statistics, forecasts and the earnings. I think it's looking at fundamentals more than anything," he said.
Robert Pavlik, chief market strategist at Boston Private Wealth, also noted support for stocks from dovish comments by European Central Bank policymaker Ewald Nowotny, who said it was "obvious" the bank must search for more ways to stimulate the euro zone economy.
"It's more of those dovish comments and then it's going to focus on the earnings and a little less about economic data," Pavlik said. "If it weren't for trepidation as far as earnings season is concerned we'd probably see the market higher right now, because people are a little nervous."
The euro turned lower against the dollar on Nowotny's remarks, before...
More