Bounce-back in hog inventories fuels lower prices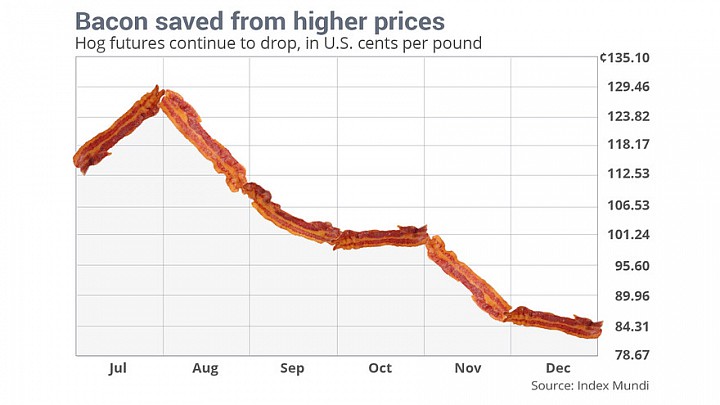 Lower hog futures = less expensive bacon

Bacon lovers, rejoice! Lower prices for your favorite cured pig product are on the horizon.
The U.S. Department of Agriculture said in its recent quarterly hogs and pigs report that it expects hog prices in 2015 to be 18% below those in 2014 because the effects of an epidemic of porcine diarrhea have abated, increasing inventory. December hog inventory rose 2% from a year earlier, the first year-over-year increase since March 2013, according to the USDA.
A more recent report from the USDA showed pork-belly prices were trending 0.3% lower at $107.36 per 100 pounds on Monday, below the five-day average of $109.34. Pork bellies are the cut from which bacon is made.
Lean hogs futures for April delivery LHJ5, -1.93% the most actively traded contract on the Chicago Mercantile Exchange, fell 0.9% to 72 cents a pound Tuesday. The contract for lean hogs in February LHG5, -2.44% was down 1.8% at just under 70 cents a pound.
The most actively traded contract for lean hogs topped out at $1.33 a pound back in March 2014, and only started to appreciably drop in late July.
Wallace Witkowski