EUR still trading lower against US dollar and testing the key resistance level at 1.3206. The euro zone government yields fell to record low today as investors expecting the European Central Bank to implement new easing measures next week. Euro zone is supposed to release inflation data on Friday and the economists are forecasting the annual inflation to be .3% even down from the .4% in July and the reading is well below the ECB's target level at 2%. Draghi in his previous comments mentioned that he was ready for any new easing measure if the inflation further declines.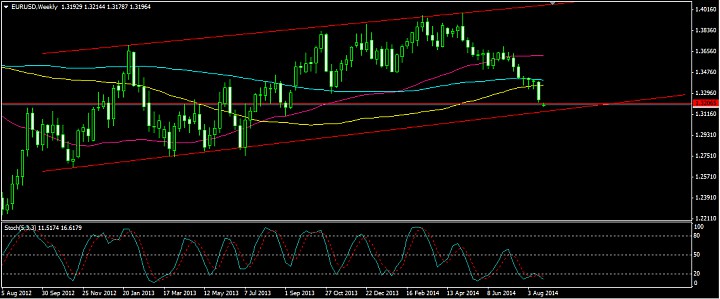 EURUSD : Weekly Chart
On the weekly chart, the pair seems like following a rising channel trend and may decline below the rising support trend line confirm a long bearish trend. The next ECB policy meeting on September 4 which might bring some major changes in the pair.