The past week saw Atlanta, GA-based airline behemoth Delta Air Lines DAL issuing a bullish view on passenger revenue per available seat mile (PRASM: a measure of unit revenue) for the second quarter of 2017. In fact, the carrier is hopeful of seeing quarterly unit revenue growth for the first time in the second quarter since the fourth quarter of 2014. The guidance was announced along with June traffic numbers, which too were impressive.
The past week also saw traffic releases from airline heavyweights like United Continental Holdings UAL, Southwest Airlines LUV and Alaska Air Group ALK.
United Airlines, subsidiary of United Continental, again grabbed headlines owing to passenger harassment issues, following the infamous David Dao episode in April. This time, the carrier reportedly forced a passenger, Shirley Yamauchi, on a flight from Houston to Boston, to remove her 27-month son from his seat, the ticket for which had cost almost $1,000. The toddler had to sit on his mother's lap during the course of the journey while his paid seat was given to another passenger.
Transportation - Airline Industry 5YR % Return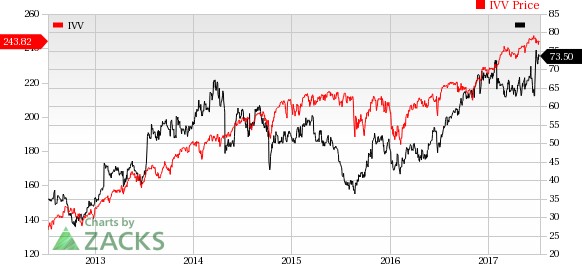 (Read the last Airline Stock Roundup for Jul 05, 2017).
Recap of the Past Week's Most Important Stories
1. Delta reported impressive traffic figures for June with load factor (percentage of seats filled by passengers) increasing 80 basis points (bps) to 88.5%. This was primarily because traffic growth outweighed capacity expansion, thereby leading to packed planes. The carrier now expects PRASM to increase approximately 2.5% in the second quarter. The bullish PRASM view implies that the metric is likely to come in at the upper end of its previously guided range of 1% to 3%. (Read more: Delta's June Passenger Unit Revenue Up 2.5%, Q2 View Bullish).
Delta sports a Zacks Rank #1 (Strong Buy). You can see the complete list of today's Zacks #1 Rank stocks here.
2. The Federal Aviation Administration (FAA) will investigate the latest passenger fiasco at United Airlines as the incident violated regulations which state that any passenger aged two or above must have a seat of his own on a flight. United Airlines has apologized for the overbooking incident.
On a separate note, the carrier's consolidated June traffic – measured in revenue passenger miles (RPMs) – increased 3.4% on a year-over-year basis. Also, consolidated capacity (or available seat miles/ASMs) expanded 5% year over year. Load factor decreased 140 bps to 85.7% in Jun 2017, as capacity expansion surpassed traffic growth. The carrier's performance in the Pacific market was disappointing due to "unfavorable supply and demand dynamics in China and Hong Kong".
This Chicago-based company now expects passenger unit revenues for the second quarter (detailed results will be out on Jul 18) to increase approximately 2% on a year-over-year basis (which is at the midpoint of the previously guided range of 1% to 3%). Additionally, United Continental expects consolidated capacity for the second quarter to grow 4.2% on a year-over-year basis. Moreover, second-quarter cost per available seat mile (CASM: excluding profit sharing, fuel & third party business cost) is anticipated to increase in the band of 3%–3.5% on higher labor costs. Pre-tax margin (adjusted) is projected in the band of 12.5% to 13.5%.
3. Southwest Airlines recorded a 3.7% year-over-year improvement in RPMs (a measure of air traffic) to 11.9 billion for the month of Jun 2017. Available seat miles or ASMs (a measure of capacity) expanded 3.8% to 13.6 billion. (Read more: Southwest Airlines' June Load Factor Flat, RASM View Intact)
4. Traffic at GOL Linhas GOL dropped 2.5% in Jun 2017. On a year-over-year basis, consolidated capacity contracted 6.4%. This was primarily because of a decline of 4.8% and 19% in domestic and international capacity, respectively. The carrier further witnessed a 0.1% decrease in passenger count in the same month. (Read more: Gol Linhas June Load Factor Improves, Stock Jumps)
5. Talks of a joint contract for pilots at Alaska Air Group and Virgin America (which was acquired in Dec 2016) have reportedly run into troubled waters. The mediated talks on the joint contract, which were ongoing since the beginning of May, recently ended without reaching any conclusion on key issues like compensation, retirement benefits and more. The failure to arrive at a joint pilot contract is a huge setback to the process of integrating the two pilot groups. (Read more: What's in Store for Alaska Air Group Pilots' Contract?)
On a separate note, Alaska Air Group witnessed an 8.3% increase in consolidated June traffic. On a year-over-year basis, consolidated capacity rose 6.9%. Meanwhile, the load factor increased to 87.3% from 86.3% recorded in Jun 2016, as capacity expansion was outpaced by traffic growth.
6. Traffic at Hawaiian Airlines, the wholly owned subsidiary of Hawaiian Holdings HA, climbed 4.4% to around 1.43 billion in Jun 2017. Meanwhile, Available Seat Miles (ASMs: a measure of capacity) expanded 2.6% to 1.64 billion.
Load factor increased 150 bps to 87.6% in Jun 2017 as traffic growth outpaced capacity expansion. On a year-to-date basis, Hawaiian Airlines witnessed a 6.9% rise in RPMs to approximately 7.9 billion. Also, ASMs improved 3.8% to 9.25 billion. As a result, load factor increased 250 bps to 85.3%. Passenger count in the first six months of 2017 grew 3.5%.
Performance
The following table shows the price movement of the major airline players over the past week and during the last six months.
| | | |
| --- | --- | --- |
| Company | Past Week | Last 6 months |
| HA | 0.0% | -17.3% |
| UAL | 2% | 2.51% |
| GOL | 19.5% | 64.6% |
| DAL | -0.3% | 5.52% |
| JBLU | -0.8% | 0.7% |
| AAL | 2% | 6.11% |
| SAVE | 2.13% | -6.8% |
| LUV | -1.1% | 19.6% |
| CPA | 6.1% | 34.9% |
| ALK | 0.9% | -2.4% |
The table above shows that most airline stocks traded in the green in the past week resulting in the NYSE ARCA Airline Index gaining 2.4% to $118.26 over the period. Shares of GOL Linhas appreciated the most (19.5%) over the past week driven by its impressive traffic results. Over the course of six months, the NYSE ARCA Airline Index appreciated 4% due to huge gains at GOL Linhas and Copa Holdings CPA.
What's Next in the Airline Space?
Investors will keenly await Delta's second quarter earnings report on Jul 13. With this Delta will kick off the Q2 earnings season for the airline sector.
More Stock News: 8 Companies Verge on Apple-Like Run
Did you miss Apple's 9X stock explosion after they launched their iPhone in 2007? Now 2017 looks to be a pivotal year to get in on another emerging technology expected to rock the market. Demand could soar from almost nothing to $42 billion by 2025. Reports suggest it could save 10 million lives per decade which could in turn save $200 billion in U.S. healthcare costs.

A bonus Zacks Special Report names this breakthrough and the 8 best stocks to exploit it. Like Apple in 2007, these companies are already strong and coiling for potential mega-gains. Click to see them right now >>
Want the latest recommendations from Zacks Investment Research? Today, you can download 7 Best Stocks for the Next 30 Days.
Click to get this free report
Southwest Airlines Company (LUV): Free Stock Analysis Report
Gol Linhas Aereas Inteligentes S.A. (GOL): Free Stock Analysis Report
Delta Air Lines, Inc. (DAL): Free Stock Analysis Report
United Continental Holdings, Inc. (UAL): Free Stock Analysis Report
Copa Holdings, S.A. (CPA): Free Stock Analysis Report
Hawaiian Holdings, Inc. (HA): Free Stock Analysis Report
Alaska Air Group, Inc. (ALK): Free Stock Analysis Report
To read this article on Zacks.com click here.
Zacks Investment Research