Paper trading is, as illustrated below, tracking stock pick ideas and allocating practice money.
Paper trading has two benefits. First, it teaches new investors the importance of allocation. Second, it measures the performance of your stock watch list.
Updown.com, a six-year old site that was recently revived thanks to financial support, ran stock picking contests. In 2010, I created a buy and hold portfolio. The results mimic  my newsletter offer:
Pick cheap stocks and chose over performance in the long-run at the cost of some short-term pain.
The real money investment process is:
Add stock to Watchlist -> Add to Paper portfolio -> Pick best ideas -> Invest in trading account. Note Whotrades' Just2Trades trading commission is ridiculously low. 
Result
"Hi Chris. Your portfolio is at $1,434,798 , up 43.5% since you started."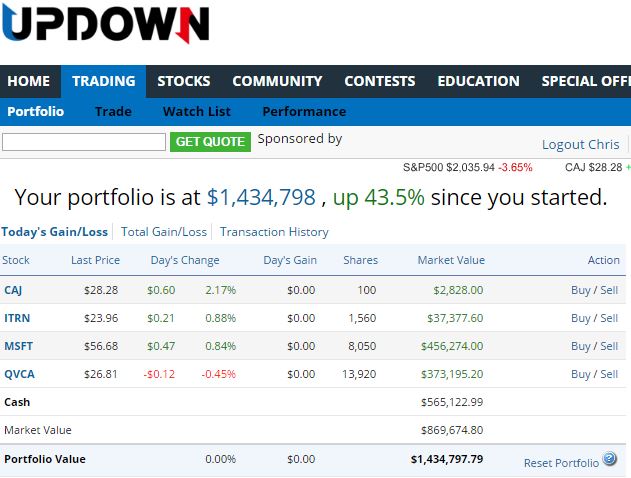 Terrible results, right? S&P 500 is up 99.9% in that time period…but wait.
Notice the cash balance on this portfolio. It is not fully invested. Similarly, the strategy for out-performance posted on the  premium newsletter.
Looking ahead
Markets may continue moving higher this month. Trading volume is random. In September, markets will more closely value upcoming results of the U.S. election. Japan's monetary policy failure will spook markets, not realizing it works for a few. See Sony (SNE) or Nintendo (NTDOY). Toyota Motors (TM) is under-performing for now but expect a reversal. A weaker yen and a stumble from VW will help Toyota.
Positive momentum for Nintendo is not yet over. Pokemon Go does not make money for the company but boosts its brand value. That is immeasurable. 
July's most popular ideas: