Mead Johnson Nutrition Company MJN is expected to report its first-quarter 2016 financial numbers on Apr 28, before market opens.
Last quarter, the company posted a positive earnings surprise of 6.85%. Further, Mead Johnson's earnings outpaced the Zacks Consensus Estimate in 2 of the past 4 quarters, with an average beat of 1.12%.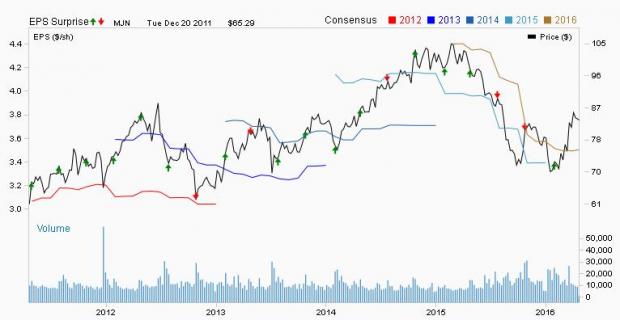 Let's see how things are shaping up prior to this announcement.
Why a Likely Positive Surprise?
Our proven model shows that the company is likely to beat earnings because it has the right combination of two key ingredients.
Zacks ESP: Mead Johnson has an Earnings ESP of +2.41%. That is because the Most Accurate estimate is 85 cents while the Zacks Consensus Estimate is pegged lower at 83 cents. This is a meaningful and leading indicator of a likely positive earnings surprise.
Zacks Rank: Mead Johnson has a Zacks Rank #3 (Hold). Note that stocks with a Zacks Rank #1 (Strong Buy), 2 (Buy) or 3 have a significantly higher chance of beating earnings estimates. Conversely, Sell-rated stocks (Zacks Rank #4 or 5) should never be considered going into an earnings announcement.
The combination of Mead Johnson's Zacks Rank #3 and +2.41% ESP makes us confident of an earnings beat at the company.
What is Driving the Better-than-Expected Earnings?
For Mead Johnson, 2015 was a challenging year with respect to unfavorable currency exchange impact and macroeconomic weakness across Asia and Latin America. While increased price-based competition and channel shifts in China impacted sales, slowing economic growth in Thailand and Malaysia hampered growth in Southeast Asia.
Given this backdrop, management has distinguished 2016 as a year of transition for Mead Johnson. According to the company, its Fuel for Gropwth strategy which was incepted in the second quarter of 2015, will take a meaningful turn in 2016, in increasing the company's operating expense productivity. Evidently, post the implementation of this initiative, Mead Johnson's operating expenses came in at approximately $20 million, better than management's expectations. We expect to observe similar appreciable outcome in first-quarter results as well.
Moreover, with the recent expansion in direct shipments of the company's fully imported products into Mainland China, management expects to witness continued cannibalization of its Hong Kong business in the near term. Although the company expects such channel shifts to hamper its underlying business progress in the near term, it may offer a stronger, more sustainable portfolio over the long haul.
As far as top-line growth is concerned, Mead Johnson expects to witness a gradual, sequential improvement in constant dollar sales, starting from the first quarter of 2016. However, when compared to the results of the first half of 2015, the company estimates to observe no positive revenue growth in the first half of 2016.
In terms of declining costs for dairy products, management expects dairy costs to remain favorable for the company for the first seven to eight months of 2016. So we may expect such favorable results to get reflected in the company's upcoming first-quarter results.
However, as far as foreign exchange fluctuation is concerned, management has indicated no near-term improvement in unfavorable currency headwinds; which has been hampering its sales in the past few quarters. We don't expect to see any different outcome regarding this issue in the first quarter as well.
Other Stocks to Consider                                                                                                   
Here are some other companies you may want to consider as our model shows they have the right combination of elements to post an earnings beat this quarter:
PAREXEL International Corporation PRXL, earnings ESP of +2.25% and a Zacks Rank #1.
Gilead Sciences Inc. GILD, earnings ESP of +1.65% and a Zacks Rank #1.
Zimmer Biomet Holdings, Inc. ZBH, earnings ESP of +1.55 % and a Zacks Rank #2.
Want the latest recommendations from Zacks Investment Research? Today, you can download 7 Best Stocks for the Next 30 Days. http://www.zacks.com/registration/pfp/?ALERT=RPT_7BST_LP194&... blog">Click to get this free report >>
Want the latest recommendations from Zacks Investment Research? Today, you can download 7 Best Stocks for the Next 30 Days.
Click to get this free report
MEAD JOHNSON NU (MJN): Free Stock Analysis Report
To read this article on Zacks.com click here.
Zacks Investment Research