Summary
Not every stock represents a wonderful business. It is an exclusive list. Manulife belongs on this list. It is an attractive value play for investors with a long investment horizon.
Manulife represents a relatively safe investment with an attractive valuation, a 4%+ dividend yield and solid long-term growth prospects, backed by strong secular tailwinds.
Asia, the largest continent on Earth, with a population of over 4.4 billion people, and its growing wealth and middle class, represents a secular tailwind for Manulife.
As I begin to write this article, the benchmark S&P 500 stock index hovers just beneath its all-time high. The P/E ratio for the index was recently at the highest level in more than a year and well above historic averages, based on both last-12-month reported earnings by S&P 500 companies, as well as expected earnings over the next 12 months. The trailing 12-month P/E ratio for the S&P 500 stands at 18.8 -- above the 15.9 average of the past decade. Looking forward, the S&P 500 trades at 17.3x earnings estimates for the next 12 months -- versus its 10-year average of 15.6x.
Investors question whether record-high U.S. stock prices signal it is time to bail out of equities. However, my view is that somewhat elevated stock valuations suggest that markets may be pricing in an earnings recovery that is yet to unfold. I recognize that, while the stock market is not a "perfect predictor" of the economy because forecasts about future corporate earnings and overall economic activity are subject to human error, nevertheless, the market's predictive ability reflects its forward-looking nature, with current prices signaling the future earnings potential of corporations.
According to Thomson Reuters I/B/E/S, analysts' consensus estimates for S&P 500 earnings are expected to dip 0.5% in the third quarter of this year and then rise 8%, 15% and 13% in the following three quarters. From the perspective of this expected earnings acceleration over the next 12 months, today's market looks more reasonably valued. Moreover, in my view, stocks still represent better relative value than bonds in this low bond yield environment.
Turning specifically to life insurance companies, I have always paid attention to stocks of lifecos since I first started investing. They are a nice fit to my investment strategy, which focuses on large- to mega-cap, dividend-growth companies with strong, experienced management teams and broad economic moats -- representing a sustainable competitive advantage that cannot be easily copied by some upstart competitor.
However, at one time, I didn't always pay sufficient attention to value. If the shares of a quality company were trading at a premium valuation, I reckoned the company would grow into that valuation over time by continuing to grow its business and financial metrics. But now I do pay close attention to valuation. I look to acquire good stocks when they are experiencing short-term challenges. I have added "attractively valued" to the criteria that form my investment strategy. After all, who doesn't want to target stocks that have attractive valuation metrics, solid outlooks and growing dividends?
To sum up my investing strategy in four compound words, it is "Long-Term, Large-Cap, Value-Oriented, Dividend Growth." (I have always equated dividend-growth investing to a value-tilt in disguise.) This is not everyone's approach to investing in equities. If it is not your style, you're likely not reading an investment article on Manulife Financial in the first place.
Not every stock is a wonderful business. It is an exclusive list. At the top of the list is market leadership and a strong management team. It encompasses qualities like a large market cap, representing critical mass; a durable, easy-to-understand business model; a distinguished corporate history and solid dividend record; and an iconic brand, which leads to customer awareness and loyalty. For me, these qualities combine to form a sleep-well-at-night stock - a "Forever Stock," as I call them.
I believe Manulife Financial Corporation (NYSE:MFC) belongs on this list. It is difficult to find a relatively safe investment with an attractive valuation, a 4%+ dividend yield and solid long-term growth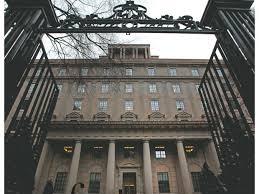 prospects, backed by secular tailwinds. The benefits of investing in high-quality stocks with above-average yields, good growth prospects and trading at an attractive valuation are well-known to long-term investors.
Manulife is one of 42 of the S&P/TSX 60 companies that list their shares on both Canadian and U.S. exchanges. In the case of Manulife, it is dual-listed on the TSX, where its average daily trading volume is 5.28 million, and the NYSE, where it trades an average of 3.88 million shares per day, for a relatively small trading volume differential ratio of 1.36.
Given the relatively small volume differential ratio between the TSX and NYSE, the "price discovery" for Manulife shares -- that is, which country's exchange drives the stock price, based on the highest trading volume - is muted. However, given the higher trading volume on the TSX, I have used the TSX and Canadian currency in this article, unless otherwise noted. In general, a Canadian company that is dual-listed and trades in similar volumes on both exchanges, such as Manulife, will underperform on the TSX as the Canadian dollar strengthens, as it has this year to date.
On May 3rd, Seeking Alpha published my Foundation article on Manulife Financial. On that day, the stock closed at C$18.00 on the TSX, 6% below its most recent prior closing price high of C$19.13, recorded on April 20. In that article, I posited that Manulife shares were attractively valued then, based on all common valuation metrics, and that they represented solid, long-term, total-return potential. After Manulife announced disappointing second-quarter results on August 4th, the stock cratered again, this time closing at $16.95, and I decided to re-assess Manulife, leading to this article.
In full disclosure, I first purchased shares in Manulife in July 2010 -- a quarter position at C$10.77. Since then, I have been opportunistically picking away at the stock when it has come under pressure and have patiently built my holding to a half position. Earlier this month, I sold a relatively small position in Inter Pipeline (OTCPK:IPPLF), as its shares had partially recovered from their January doldrums, because I believe that growth opportunities and new project returns for Inter Pipeline have waned because of its regional footprint and the fact it doesn't have a large NGL business to benefit from the liquids-rich trend.
Moreover, given my very long-term investment horizon, I have been looking for opportunities to judiciously reduce my exposure to pipeline/storage companies. I rarely hold cash -- it is a poor investment, with its own risks, notably inflation risk. And I don't ever try to time the market -- I'd be just as likely get it wrong. But I currently have some cash to put to work, resulting from my sale of the IPL shares, and MFC is a bright blip at the center of my radar screen.
I believe that Manulife shares today represent an attractive value play for investors with a long investment horizon, with a forward P/E ratio of 8.39, a PEG ratio of 0.84, a P/BV value of 0.87 and a dividend yield of 4.3%. And the insurer has strong and growing revenue to underpin earnings growth. One of the ways Manulife is growing revenue is through an aggressive and intelligent acquisition and partnership strategy. Manulife recognizes that Asia has a massive cohort of citizens entering the middle class and the company has been significantly strengthening its presence in this key market.
For example, the insurer recently signed a $1.2 billion deal with DBS Group Holdings of Singapore. This will give it the exclusive right to offer wealth management products and insurance to DBS clients across Asia. The initial agreement is for 15 years and the partnership is already building good momentum. Please see my May 3rd article entitled "Manulife Financial: This Steady Dividend Grower...
More