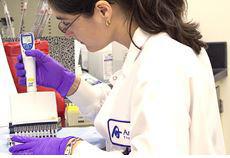 What: After reporting additional late stage trial data and ahead of learning that a key European advisory committee had voted in support of its lead drug, shares of Amicus Therapeutics (NASDAQ:FOLD) shot 23.4% higher in March, according to data from S&P Global Market Intelligence.
So what: On March 1, Amicus Therapeutics reported data from phase 3 studies showing that Galafold patients who hadn't been treated with the current standard of care, enzyme replacement therapies, saw a statistically significant improvement in podocytes, or cells in the kidneys that build up in Fabry disease patients. Galafold also appears to positively effect kidney and cardiac function in a 19-30 month extension study.
At the time, the data added conviction to the idea that European regulators may OK the drug for use in treating Fabry disease patients. Enzyme replacement therapies, including Shire plc's (NASDAQ:SHPG) Replagal, replace alpha-gal A, an enzyme that's missing or damaged in patients with Fabry disease and...
More