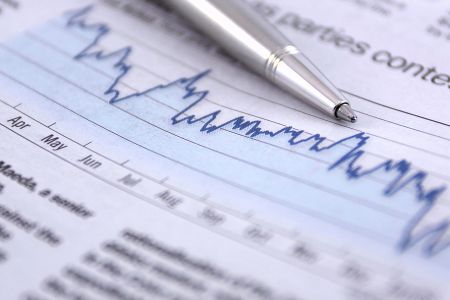 S&P 500 testing previous support, now resistance, at 2160.
**NEW** As part of the ongoing process to offer new and up-to-date information regarding seasonal and technical investing, we are adding a section to the daily reports that details the stocks that are entering their period of seasonal strength, based on average historical start dates.   Stocks highlighted are for information purposes only and should not be considered as advice to purchase or to sell mentioned securities.   As always, the use of technical and fundamental analysis is encouraged in order to fine tune entry and exit points to average seasonal trends.
Stocks Entering Period of Seasonal Strength Today:
No stocks identified for today
The Markets
Stocks jumped back on Monday amidst dovish comments from a Fed official that calmed investors nerves pertaining to an imminent rate hike.  The S&P 500 index rebounded by around 1.6% at the highs of the session, recouping much of Friday's losses as stocks bounce from short-term oversold levels.  The benchmark halted its advance around its 50-day moving average, which was broken during Friday's decline.  Short-term horizontal resistance is apparent at 2160, a level that had supported the market for the past couple of months.  Volume on the day was lighter than Friday, but above the recent average as the speculation continues as to the Fed's path forward to normalize rates.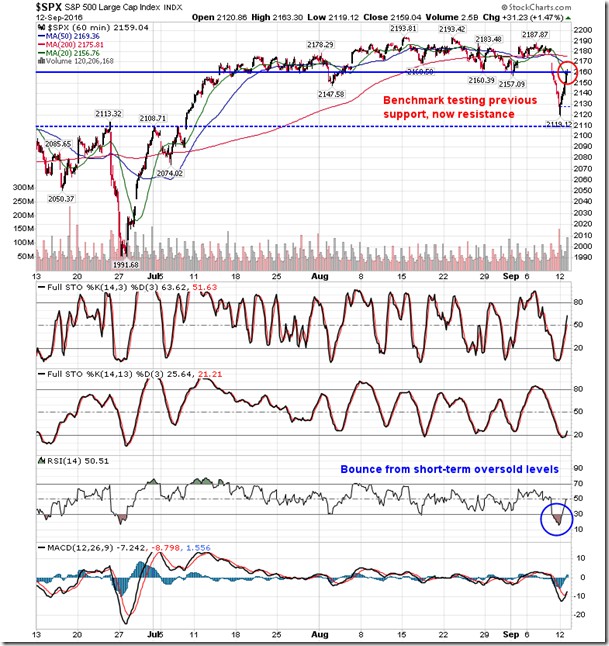 Sentiment on Monday, as gauged by the put-call ratio, ended neutral at 1.00.  The average true range (ATR) of the ratio has been pushing above its declining trendline over the past few days, hinting of the start of a new positive trend.  A rising trend in the average true range is indicative of volatility in the options market, often the result of investor indecision, which can have bearish implications for equity prices.  However, caution isn't always immediately warranted.  Recall, the last time that the ATR broke above a declining trend was mid to late March; an intermediate peak in the S&P 500 Index was not realized for a number of weeks to follow in the middle of April. The danger level to watch is typically around 0.12.  Should the technical indicator exceed this level and continue to rise, the volatility in options markets may lend itself to equity market weakness.  Something to look out for as we progress further into what is typically the most volatile time of year for equity markets.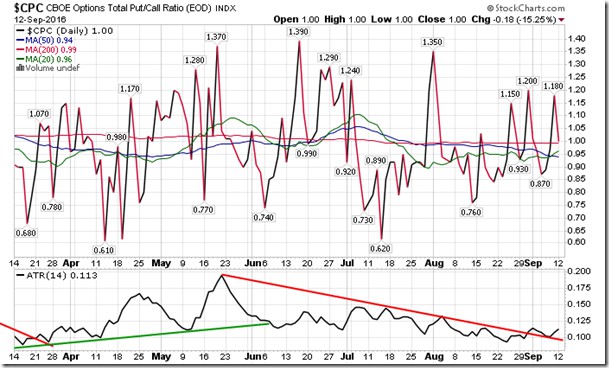 Seasonal charts of companies reporting earnings today:
 
S&P 500 Index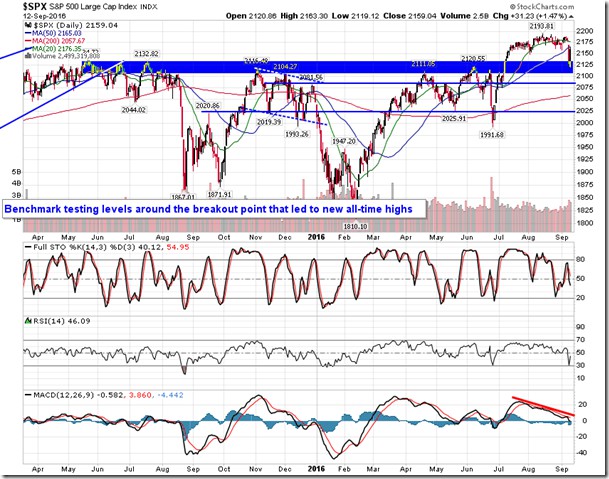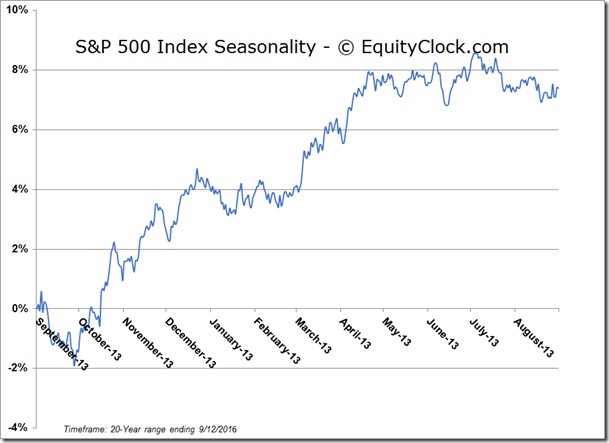 TSE Composite