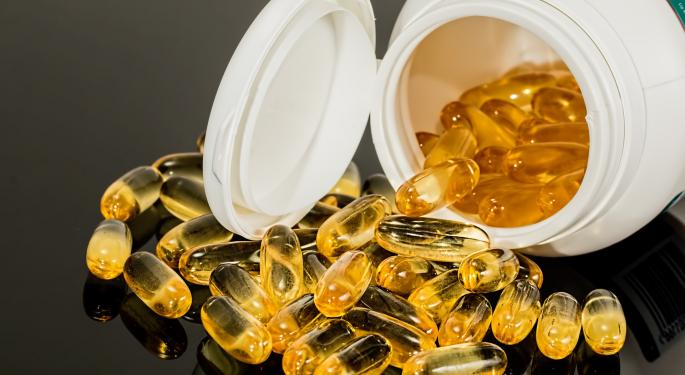 Shares of pharmaceutical giant Bristol-Myers Suibb Co BMY plunged last Friday after the company announced its Opdivo drug had failed a trial evaluating its efficacy as an alternative treatment to chemotherapy in lung cancer patients. Specifically, the potential blockbuster drug failed to effectively demonstrate that it slowed the progression of advanced lung cancer in patients.
The news came as a big surprise to Wall Street as the FDA has already approved Opdivo to treat metastatic melanoma and small cell lung cancer that has not responded to chemotherapy. In a statement, the company said, "While today's news is disappointing, Bristol-Myers Squibb is proud of all that the company has and aims to accomplish with Opdivo. We are indeed transforming cancer care, and remain committed to bringing the benefit of our medicines to the greatest number of patients across multiple cancers."
Merck Benefit
In the days after the disappointing trial results, analysts across Wall Street have slashed estimates for Opdivo sales while opining that Merck & Co., Inc's MRK Keytruda drug will benefit from the Opdivo failed trial. Keytruda delivered positive top-line results from its firs-line lung cancer trial earlier in 2016.
"We fully expect the market momentum to favor Merck's Keytruda over the next several months," Leerink Partners analyst Seamus Fernandez said in a Sunday note. "Simply put, Bristol-Myers has a failed first-line study, while Merck has a big win," he said.
Overall, the plunge in shares, from above $75 to the low-$60 range, has shaved around $20 billion off of the company's market-cap, or roughly an 18 percent decline. In the wake of the Opdivo news, analysts at Bernstein hiked their peak sales estimates for Keytruda by $2.5 billion while slashing peak estimates for Opdivo in 2025 from $13.3 billion to $10.3 billion.
Given the huge decline in the share price, however, some on Wall Street see opportunity in the blue-chip pharmaceutical name.
Selloff Overdone
Argus analyst David Toung released an investor note on Tuesday suggesting that the decline in Bristol-Myers is now overdone.
"We view the selloff - based on the failure of a single trial - as excessive, and believe that it overlooks the significant growth drivers in the company's product portfolio and R&D pipeline, as well as the value of Opdivo as a breakthrough therapy for the treatment of solid tumors."
The firm raised its 2016 adjusted earnings per share estimates to $2.60 from $2.47 and its 2017 EPS estimates to $3.25 from $3.15. Furthermore, Argus reiterated its Buy rating and $90 price target, which implies roughly 50 percent upside from current levels. If this price target turns out to be even close to accurate, it would represent an outstanding investment given Bristol's large-cap status, low beta, and 2.52 percent dividend yield. It's not easy to find a $100 billion company with 50 percent upside.
Argus cited the nine indications that Opdivo has gained approval for in the U.S. and the five indications in Europe over the last two years as a reason why investors should still be excited about the drug's sales potential over the long run. They also noted that Opdivo is currently being studied in an additional 13 late-stage trials and could be approved for more indications.
In addition, Opdivo is being studied in combination with another Bristol drug, Yervoy, for first-line non-small cell lung cancer. Tuong noted that positive top-line results from this study, due in late 2017, would put Opdivo right back in the running with Keytruda. The investor note added, "We believe the selloff offers investors an attractive entry point. In our view the stock remains favorably valued given the company's substantial growth opportunities for Opdivo, despite the single failed trial, and strong product portfolio and new drug pipeline."
Stock Update
Bristol-Myers is trading at roughly 18.9 times 2017 EPS estimates, which remains ahead of the 14.3 PE ratio for peer stocks in Argus' coverage universe, but the stock's multiple has contracted sharply from the high 20s for most of 2016.
Therefore, investors have a trio of potential reasons to own the stock going forward - the possibility of multiple expansion from current levels, potentially positive results from the Opdivo/Yervoy trial in 2017, and the possibility for limited downside from current levels given the large sell-off, BMY's blue-chip status, and the stock's healthy dividend yield.
Date
Firm
Action
From
To
Aug 2016
Citigroup
Maintains
Buy
Aug 2016
Jefferies
Maintains
Hold
Aug 2016
Deutsche Bank
Maintains
Hold
© 2016 Benzinga.com. Benzinga does not provide investment advice. All rights reserved.