A month has gone by since the last earnings report for RH (RH). Shares have added about 12.9% in the past month, outperforming the market.
Will the recent positive trend continue leading up to the stock's next earnings release, or is it due for a pullback? Before we dive into how investors and analysts have reacted of late, let's take a quick look at the most recent earnings report in order to get a better handle on the important drivers.
RH Q1 Earnings Meet Estimates, Comparable Brand Revenues Up

RH reported first-quarter fiscal 2017 earnings per share of $0.05, reflecting a significant improvement over a loss of $0.05 in the prior-year quarter. Also, earnings were in line with the Zacks Consensus Estimate.

Revenues increased 23% to $562.1 million, surpassing the Zacks Consensus Estimate of $560.4 million by 0.3%. Acquisition of Waterworks accounted for about six percentage points of revenue growth, while another six percentage points came from higher outlet and warehouse sales on accelerated inventory optimization.

RH's comparable brand revenues increased 9% year over year, compared with the 4% increase in the prior-year quarter. The company's direct revenues increased 23% and store revenues rose 24%.

Margins

Meanwhile, adjusted operating income in the reported quarter improved sharply from the prior-year figure of $0.7 million to $8.3 million. Adjusted operating margin expanded 130 basis points (bps) to 1.5%. Adjusted gross profit in the quarter came in at $171.6 million, up 27% year over year. Moreover, adjusted gross margin improved 80 bps to 30.5%.

Store Update

At the end of the fiscal first quarter, RH operated 85 retail outlets, higher than 69 in the prior-year quarter. These included 50 legacy galleries, six large format galleries, eight next generation design galleries, one RH Modern Gallery and five Baby & Child galleries in the U.S. and Canada, and 15 Waterworks showrooms in the U.S. and U.K.

Balance Sheet

RH had cash and cash equivalents of $80.2 million as on Apr 29, 2017, compared with $87.0 million as on Jan 28, 2017. The company ended the quarter with merchandise inventories of $683.9 million and total shareholders' equity of $622.8 million.

Second-Quarter Outlook

Revenues are expected in the $595 million to $610 million range, signifying a 9% to 12% increase on a year-over-year basis.

Adjusted net income is projected in the range of $13 million to $15 million, leading to adjusted diluted earnings per share in the $0.38–$0.43 range.

Fiscal 2017 Outlook

Revenues are expected in the $2.4 billion to $2.45 billion range as RH plans to adopt a more aggressive approach to rationalize product offerings, reduce inventories and boost free cash flow.

Though this will drive revenues and cash flow, it will dent earnings. Thus, the company expects adjusted net income in the $60 million to $70 million range (previously $65--$80 million) and adjusted diluted earnings per share of $1.67 to $1.94.

RH also plans to open three next generation Design Galleries this year.
How Have Estimates Been Moving Since Then?
Following the release, investors have witnessed a downward trend in fresh estimates. There have been eight revisions lower for the current quarter. In the past month, the consensus estimate has shifted lower by 31.6% due to these changes.
RH Price and Consensus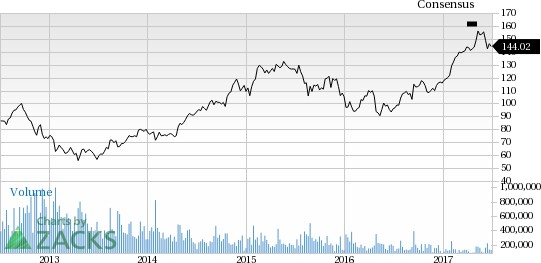 VGM Scores
At this time, RH's stock has a great Growth Score of 'A', though it is lagging a lot on the momentum front with an 'F'. However, the stock was allocated a grade of 'C' on the value side, putting it in the middle 20% for this investment strategy.
Overall, the stock has an aggregate VGM Score of 'B'. If you aren't focused on one strategy, this score is the one you should be interested in.
Our style scores indicate that the stock is more suitable for growth investors than value investors.
Outlook
Estimates have been broadly trending downward for the stock. The magnitude of this revision also indicates a downward shift. Notably, the stock has a Zacks Rank #3 (Hold). We expect in-line returns from the stock in the next few months.
Want the latest recommendations from Zacks Investment Research? Today, you can download 7 Best Stocks for the Next 30 Days.
Click to get this free report
Restoration Hardware Holdings Inc. (RH): Free Stock Analysis Report
To read this article on Zacks.com click here.
Zacks Investment Research