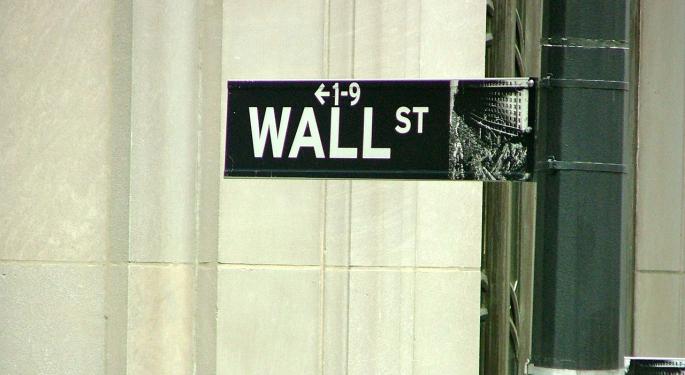 The U.S. stock market closed out another quiet week with small losses on Friday. The market opened the session lower and then climbed through mid-day. After an early afternoon selloff, the major averages closed near their best levels of the day.
Gainers included The GEO Group GEO 21.37%, which jumped almost 22 percent a day after plunging nearly 40 percent on news that the U.S. government is ending its private prison program. The stock remains down sharply from previous levels. Agricultural giant Deere & Company DE 13.49% climbed almost 14 percent on Friday after a strong Q3 earnings report. Losers included Pure Storage Inc PSTG 13.05%, which fell 13 percent on a downgrade, and AK Steel Holding Corporation AKS 9.67%, which lost around 10 percent on the day.
Major Averages
The Dow Jones Industrial Average lost 45 points, or 0.24 percent, to close at 18,553.
The S&P 500 fell around 3 points, or 0.14 percent, to 2,184.
The Nasdaq lost 2 points, or just 0.03 percent, to finish at 5,238.
Commodities
The commodity complex followed stocks lower on Friday, with the Bloomberg Commodity Index shedding 0.58 percent.
NYMEX crude oil futures gained 0.56 percent to $48.49 while Brent contracts fell 0.18 percent and finished at $50.80. Natural gas futures lost 3.85 percent to $2.57.
Precious metals traded down on Friday. COMEX gold futures fell 0.92 percent to finish at $1,344.70. The SPDR Gold Trust ETF GLD 0.88% lost 0.89 percent to $127.97. Silver futures fell 2.25 percent to $19.30 on the session. The iShares Silver Trust ETF SLV 2.24% traded down 2.24 percent to $18.35.
In the grains complex, corn and wheat were higher on the session. Corn futures closed out the week with a gain of 0.51 percent to $3.4375 per bushel while wheat futures added 0.11 percent to $4.4475.
Bonds
Treasury prices were lower on Friday. At the close of equities, the iShares Barclays 20+ Year Treasury Bond ETF TLT 0.52% had lost 0.52 percent to $138.71.
Treasury yields were as follows on Friday afternoon: The yield on the 2-Year Note was 0.76 percent. The 5-Year Note was yielding 1.17 percent. The 10-Year Note was last yielding 1.58 percent while the 30-Year Bond yield was 2.29 percent.
Currencies
The U.S. Dollar was slightly higher on Friday. The PowerShares DB US Dollar Index Bullish ETF UUP 0.37%, which tracks the performance of the greenback versus a basket of foreign currencies, added 0.37 percent to $24.42. The closely watched EUR/USD pair fell 0.27 percent to 1.1323 euros.
Volatility and Volume
The CBOE Volatility Index (VIX) was slightly lower on the day and continues to sit near 52-week low levels as market volatility and economic worries remain muted. The VIX fell 0.79 percent to 11.34 to close out the week.
Volume was lighter than normal on Friday with around 67 million shares of the SPDR S&P 500 ETF SPY 0.15% trading hands versus a 3-month daily average of 94 million shares. Trading in the PowerShares QQQ Trust QQQ 0.03%, which tracks the Nasdaq 100, was also below average with around 17.3 million shares trading hands compared to a 3-month daily average of 22 million.
© 2016 Benzinga.com. Benzinga does not provide investment advice. All rights reserved.