Netflix Inc. NFLX just released its second quarter fiscal 2017 earnings results, posting earnings of 15 cents per share and revenue of $2.79 billion. Currently, NFLX is a Zacks Rank #2 (Buy), and is up nearly 9% to $176.13 per share in after-hours trading shortly after its earnings report was released.
Netflix:
Missed earnings estimates. The company posted earnings of 15 cents per share, lagging behind the Zacks Consensus Estimate of 16 cents per share. Net income was $66 million for the quarter.
Beats revenue estimates. The company saw revenue figures (including DVD) of $2.79 billion, just edging past our consensus estimate of $2.76 billion and growing 32.2% year-over-year. Total streaming revenues were $2.67 billion, increasing 35.8% year-over-year.
Operating income came in at $128 million, while operating margin was 4.6% for the quarter.
Netflix said that streaming membership grew more than expected, from 99 million to 104 million, and the company cited its "amazing content" as the reason. The company also said it crossed the symbolic milestone of 100 million members during Q2.
The streaming platform added 5.2 million users during the period, well above Wall Street's estimates of 3.23 million.
Looking ahead, Netflix expects earnings of 32 cents per share (net income of $143 million) and total revenues of $2.969 billion for the third quarter of fiscal 2017.
"Our Q3 guidance assumes much of this momentum will continue but we are cognizant of the lessons of prior quarters when we over-forecasted and there was lumpiness in net adds, likely due to demand being pulled forward," said Netflix.
Here's a graph that looks at Netflix's price, consensus, and EPS surprise:
Netflix, Inc. Price, Consensus and EPS Surprise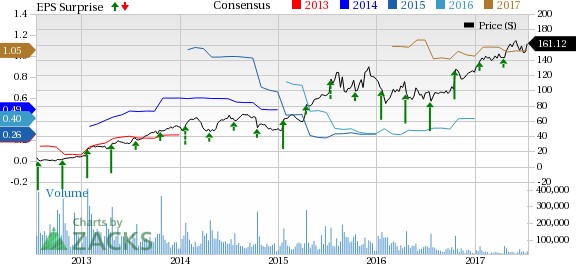 Netflix, Inc. Price, Consensus and EPS Surprise | Netflix, Inc. Quote
Netflix is the world's leading Internet television network with millions of subscribers in nearly 50 countries who have access to an ever-expanding library of TV shows and movies, including original programming, documentaries and feature films. The company offers the ability to watch as subscribers want, anytime, anywhere, on nearly any Internet-connected screen.
Today's Stocks from Zacks' Hottest Strategies
It's hard to believe, even for us at Zacks. But while the market gained +18.8% from 2016 - Q1 2017, our top stock-picking screens have returned +157.0%, +128.0%, +97.8%, +94.7%, and +90.2%, respectively.
And this outperformance has not just been a recent phenomenon. Over the years it has been remarkably consistent. From 2000 - Q1 2017, the composite yearly average gain for these strategies has beaten the market more than 11X over. Maybe even more remarkable is the fact that we're willing to share their latest stocks with you without cost or obligation. See Them Free>>
Want the latest recommendations from Zacks Investment Research? Today, you can download 7 Best Stocks for the Next 30 Days.
Click to get this free report
Netflix, Inc. (NFLX): Free Stock Analysis Report
To read this article on Zacks.com click here.
Zacks Investment Research