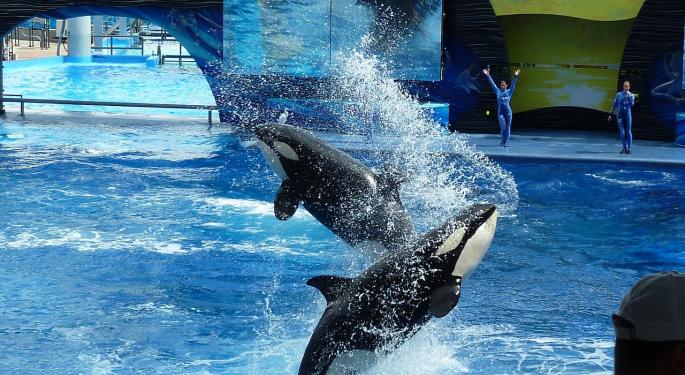 Credit Suisse's Benjamin Chaiken believes SeaWorld Entertainment Inc SEAS shares could potentially see 18 percent downside, driven by intensifying competition, lack of pricing power, as well as lower-than-anticipated cost savings.
Chaiken downgraded the rating on the company from Outperform to Underperform, while lowering the price target from $27 to $15.
Turnaround Unlikely
Although the analyst believes that theme park stock offer investors a robust pure play on the recover low and middle end consumer, expectations for SeaWorld Entertainment for 2016 appear overly optimistic and could lead to forecast cuts and multiple compression.
"Specifically, we believe as peer competition ramps, a lack of pricing power becomes evident, and costs savings miss expectations, SEAS turnaround thesis will lose traction," Chaiken mentioned.
Related Link: SeaWorld's Orca Exit Worth $2-$8 In Upside, FBR Predicts
Elevated Expectations
The analyst pointed out that the consensus expectations were at the high end of the guidance, and that some investors seem to still not have fully capitulated, trading on "hope."
In addition, the expectations imply back half loaded attendance growth and cost reduction. The analyst sees the "dramatic" capital investment by competitors as a potential risk, with downside risk to the expectations when cost reductions fail to materialize and attendance is lower than expected.
"While we agree with mgmt.'s decision to invest more heavily in non-animal centric attractions for now the level/speed of investment will be overshadowed by peers," Chaiken noted.
| Date | Firm | Action | From | To |
| --- | --- | --- | --- | --- |
| May 2016 | Credit Suisse | Downgrades | Outperform | Underperform |
| Apr 2016 | Citigroup | Downgrades | Buy | Neutral |
| Mar 2016 | Wells Fargo | Upgrades | Market Perform | Outperform |
© 2016 Benzinga.com. Benzinga does not provide investment advice. All rights reserved.