TUR: MSCI Turkey ETF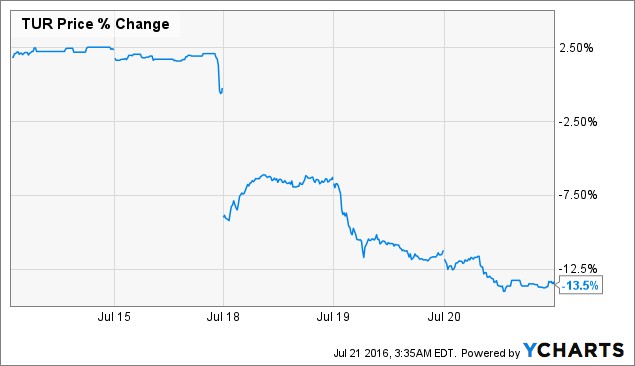 ---
I have a friend who lives in Turkey, she informed me that something weird going on in the country a full 20 mins before it appeared on CNN. Like any good investor I shorted the ETF, making over 5% when I sold on Monday. 
Surprisingly, TUR continued to drop through the week and I am beginning to wish I held on to my short position. 
Fundamental Problems With the Country. 

This coup firmly removed Turkey from Europe and placed in squarely in the middle east. Turkey is beginning to look dangerously like the next Tunisia, or even Lybia - previously secular, wealthy countries that slid down the path of violence and fundamentalism. 
Conclusion:
The worst part of all this is that it it seems like the good guys lost. The president of Turkey is using the coup as an excuse to eliminate all opposition and consolidate power. Sultan Erdogan is bad news for Turkey and the Middle East in general. Short TUR to zero.