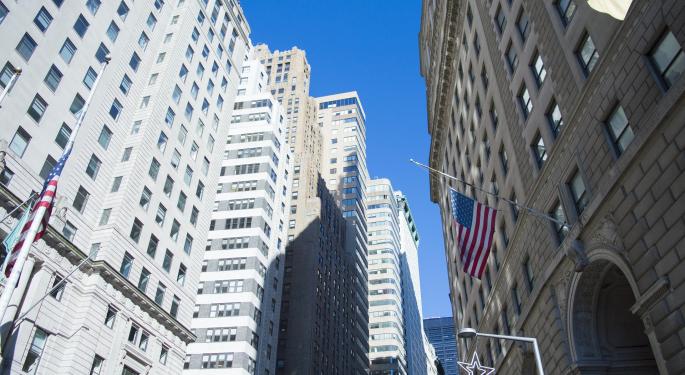 Below is a tool used by the Benzinga News Desk each trading day -- it's a look at everything happening in the market, in five minutes. Apply for daily AM access by clicking here or email minutes@benzinga.com.
Macro Focus
Oil prices were trading higher in reaction to output disruptions in Nigeria and a report by analysts at Goldman Sachs that argued the oil market has transitioned into a deficit after two years of being oversupplied.
"The oil market has gone from nearing storage saturation to being in deficit much earlier than we expected," Goldman said. "The market likely shifted into deficit in May...driven by both sustained strong demand as well as sharply declining production."
Asian stocks were mostly higher on Monday despite a fresh round of concerning data coming out of China. According to Reuters, China's National Bureau of Statistics said the country's April factory output rose 6.0 percent year-over year, short of the 6.5 percent growth expected. The NBS said, "Because the total amount of private investment is relatively large, the continued slowdown could restrain stable growth, and requires a high degree of attention."
Announced buybacks slumped 38 percent to $244 billion from a year ago, as macro uncertainty and banks' absence contributed to decline.
BZ News Desk Focus
It's 13F season! Here's a look a some of the early trends. You can also take a gander at the notable moves from David Tepper and from Dan Loeb.
Sell-Side Themes
A slew of analysts weighed in on JC Penney's JCP 2.24% earnings report. Baird upgraded the stock to outperform, while other analysts cut their price targets.
Sell-Side's Most Noteworthy Calls
Goldman Sachs downgrades Weibo WB 1.22% to Neutral.
Canaccord upgrades Nokia NOK 0.29% to Buy.
Bank of American reinstates Lululemon LULU 1.62% at Underperform.
MKM cuts Twitter's TWTR 1.77% price target from $18 to $14.
Canaccord initiated coverage on Microsoft MSFT 0.39% at Hold.
Deal Talk
Pfizer PFE 0.81% and Anacor Pharmaceuticals ANAC 54.69% have struck a definitive merger agreement. The former would buy the latter for $99.25 per share in cash. The total transaction value, net of cash, is estimated to be approximately $5.2 billion, which assumes the conversion of Anacor's outstanding convertible notes.
It was reported late Friday that Warren Buffett is backing a consortium of investors, including Quicken Loans Founder Dan Gilbert, for Yahoo's YHOO 1.73% core assets. On Monday morning, Buffett told CNBC, "Yahoo is not the type of thing I'd ever be an equity partner in. I don't know the business and wouldn't know how to evaluate it, but if Dan needed financing, with proper terms and protections, we would be a possible financing help."
Buy-Side
Ray Dalio's Bridgewater Associates recently won approval to register a wholly owned subsidiary in Shanghai, providing new access to China's often volatile financial markets for the large firm.
According to Berkshire Hathaway's most recent Form 13F, the firm owns 9,811,747 shares of Apple.
In The News
Amazon AMZN 0.46% in the coming weeks is set to roll out new lines of private-label brands that will include its first broad push into perishable foods, people familiar with the matter told Wall Street Journal.
The Philadelphia 76ers have become the first team in the four major U.S. sports to sell an ad on a jersey. Ticket company StubHub will have its logo on the team's jerseys beginning in the 2017-18 season, when the NBA's three-year pilot program will start. Sources with knowledge of the deal told ESPN the team has sold all three seasons at $5 million a year.
Facebook FB 0.63% is the latest tech rival to take aim at the Google GOOG 0.41%-owned video giant. Mark Zuckerberg's social network, with 1.59 billion users worldwide, is searching for fresh ways to work with the music industry, The New York Post has learned.
Blogosphere
Michael Bloomberg and Jamie Dimon wrote a column about how schools must improve what they're teaching younger students.
Elon Musk's enterprises seem to be advancing ridiculously fast, whereas others are stagnant. Ever wondered why?
Jim Cramer vs. The Market. A Wharton School study recently investigated how the TV personality competes against the S&P 500.
Trending
AAPL ANAC PFE BKR.B XBI RRC MRD TPUB YHOO TRVN LABD TEX IBB INO HD JCP TJX IBM [StockTwits]
https://twitter.com/search?f=users&vertical=default&q=%23WD2016
Women Deliver is a global nonprofit organization advocating for better health, rights and well-being of girls and women worldwide.
© 2016 Benzinga.com. Benzinga does not provide investment advice. All rights reserved.