Expert Picks from the Models
This week's choices include several market sectors.
Roadrunner: Align Technology (ALGN) is my pick of the week. Regular readers may remember that I picked this one up a little over a month ago, near the end of May. I might as well take you through the whole thing; it's a good explanation of how I work.
(Click on image to enlarge)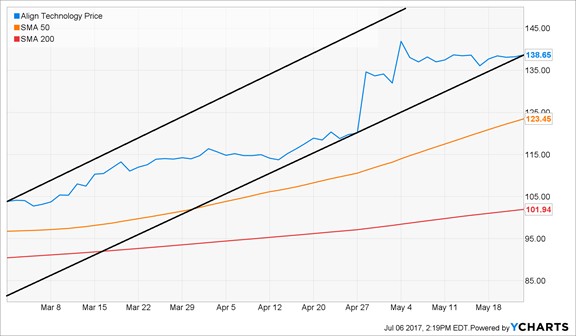 I choose stocks when the price is near the bottom of the trading channel. This was definitely the case when I staked out my initial position on 5/25. By 6/23, the stock had appreciated just over 8%, up to around $151 per share. Not only was this a sizeable gain, but also it put the price near the top of the channel. I sold my shares and moved on.
(Click on image to enlarge)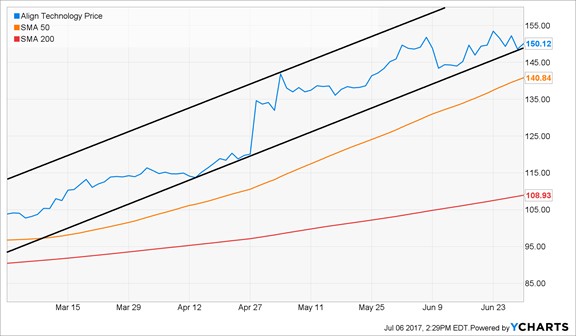 Then, on 6/30, I saw noticed another dip down to the $150 mark. As a result, that brought the channel down lower and made a re-entry look attractive. I'll be holding this position for another four weeks at the very most.
J: As you can see from the F.A.S.T. Graphs chart below, this is a P/E ratio of 54.2. The earnings growth is uncertain and fluctuating through a significant range. Are you sure the coyote is not influencing you again?
RR: That is what you said the last time, but it was a profitable trade. My system does not require earnings.
J: At least there is some earnings foundation. I see risk to 55 or so.
RR: That is why you are the investor, and I am the trader. Beep Beep!!
(Click on image to enlarge)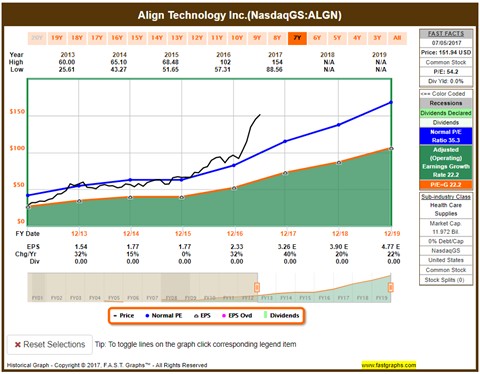 Holmes: This week I am highlighting Archer-Daniels-Midland Company (ADM), the American global food processing and commodities trading corporation. It is a company established way back in 1898 and is headquartered in Chicago. It is especially familiar to our team.
My focus as always is on the chart below. At first, what interested me was that the stock is trading much below its 50-day and 200-day moving averages. Surely, a sign that it has room for upside. Second, I saw the stock was at its lowest price level at the end of June (comparing its prices for last one-year)...
More