Gold and silver fell sharply after the peculiarly positive jobs number this afternoon. Gold fell 2.5% and silver 3.5% as traders took profits and shorted gold due to the much stronger than expected jobs number.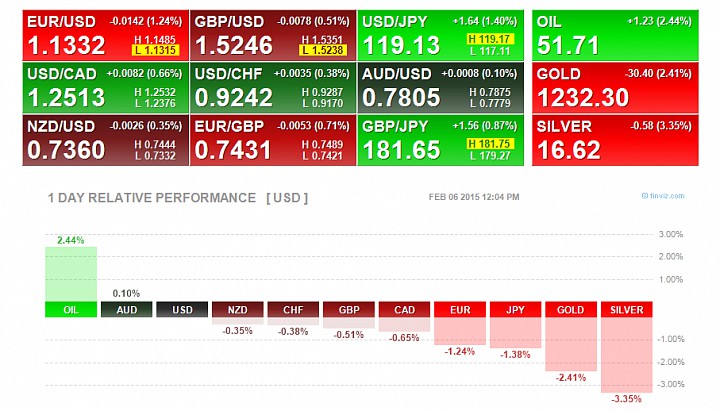 Given the spate of recent poor economic numbers in the U.S. and internationally, analysts are beginning to question the veracity of some of the U.S. government's economic statistics including their jobs numbers today.
Only this week, Gallup Chairman and CEO Jim Clifton wrote a scathing attack on what he calls the government's "extremely misleading" unemployment statistics. He thus publically declared what many have known for a long time: the U.S.' government's economic statistics, including unemployment, are grossly and intentionally misstated for the purpose of making the economy appear better than it really is.
"There's no other way to say this," Clifton wrote on the Gallup website. "The official unemployment rate, which cruelly overlooks the suffering of the long-term and often permanently unemployed as well as the depressingly underemployed, amounts to a Big Lie."
Zerohedge.com today also asked questions about the jobs report in an excellent blog entitled 'Did The BLS Forget To Count Thousands Of Energy Job Losses?' The ahead of the curve blog pointed out that according to corporations themselves, there were at least 18,000 terminations in the high-paying energy sector. According to the January payrolls report, the number of Oil and Gas Extraction workers declined to 199.5K in January from 201.4K in December, a virtually non-existant drop of 1,900 workers (and even the not seasonally adjusted, raw data shows a tiny drop of just 3.1K workers). So did the BLS choose to ignore for these thousands of jobs losses, or did it simply forget?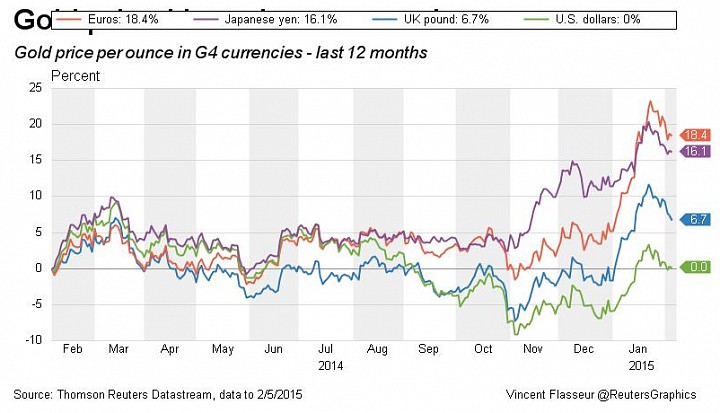 Gold has flatlined prior to the 'dodgy' jobs number. In Asian trading, Singapore gold moved sideways and this trend continued in European trade. Gold is set to end the week down just over 2%. The range this morning has been pretty narrow, less than $7/oz, ahead of this afternoon's non-farm payrolls data.
Silver is also flat,while, platinum and  palladium are marginally higher.
Sentiment towards gold continues to improve and this is seen in the ETF gold demand numbers. Holdings at SPDR Gold Trust, the world's largest gold-backed exchange-traded fund, rose to 24.86 million ounces on yesterday, the highest since September.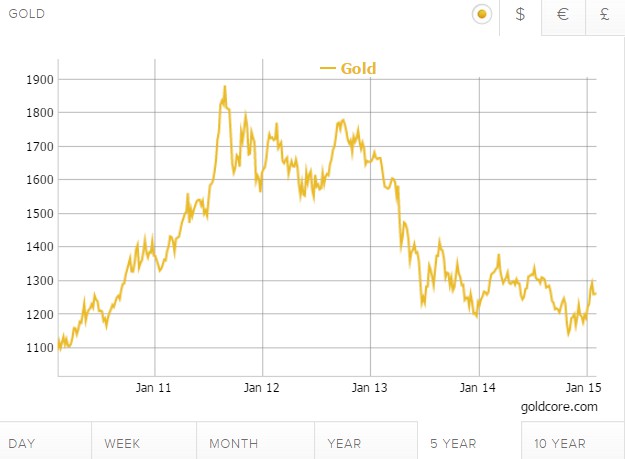 Gold in Dollars - 5 Years (GoldCore)
Gold should be supported by the continuing Greek debt saga and deepening tensions between the U.S. and NATO and Russia.
Greece's new Finance Minister clashed openly with his powerful German counterpart after blunt talks in Berlin. German Finance Minister Wolfgang Schaeuble said he had told Greece's Yanis Varoufakis it was not realistic to make electoral promises that burdened other countries, and they had "agreed to disagree."
Greece's borrowing costs have leapt and bank shares plunged following the ECB's decision to stop funding the country's lenders. Greek banks were already struggling with big outflows of deposits and stealth bank runs are believed to be continuing.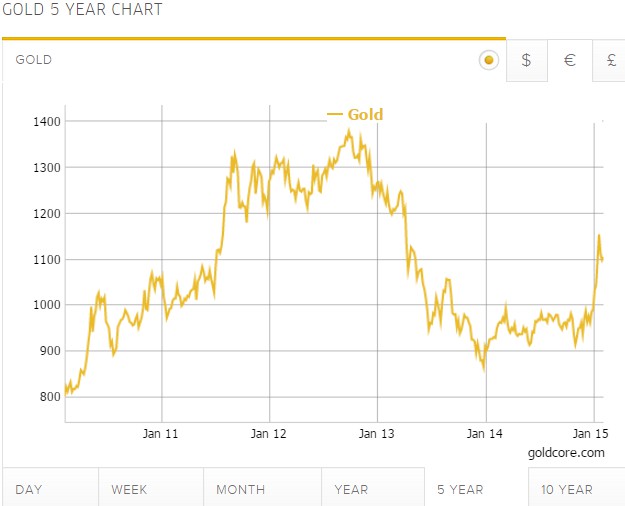 Gold in Euros - 5 Years (GoldCore)
Nato is to 'bolster' America's military presence in Eastern Europe in response to increased fighting in eastern Ukraine between government forces and pro-Russia rebels. Six bases are being set up and a 5,000-strong "spearhead" force established.
The U.S. is now talking about arming Ukraine which will further inflame the situation and likely lead to an escalation in the conflict.
German Chancellor Angela Merkel says she and French President Francois Hollande will "use all our power" on their visit to Moscow to try and stop the bloodshed in eastern Ukraine.
Speaking Friday before flying to Russia for talks with President Vladimir Putin, Merkel said she could not say whether she and Hollande, who were in Kiev for talks Thursday with the Ukrainian government, would be able to achieve a new cease fire.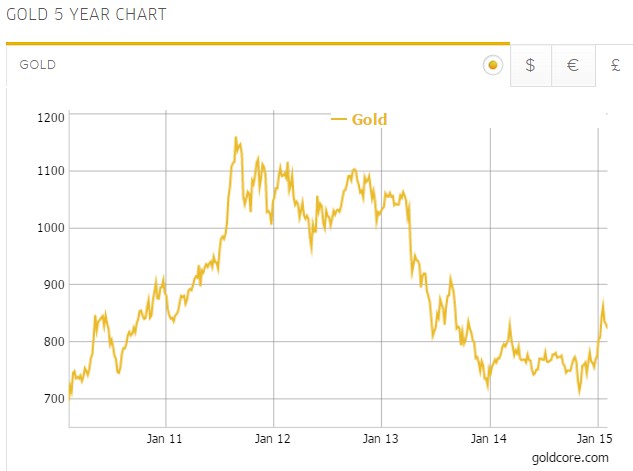 Gold in British Pounds - 5 Years (GoldCore)
Geopolitical risk remains high with relations between Russia and the U.S. and NATO continuing to deteriorate.
NATO sabre rattling was seen yesterday when the former head of Nato warned that  Vladimir Putin has dangerous ambitions beyond Ukraine and aims to test Western resolve in the Baltic states. Anders Fogh Rasmussen, the former secretary-general of the Atlantic alliance, said the Kremlin's true goal is to shatter NATO solidarity and reassert Russian dominance over Eastern Europe.
The very uncertain geopolitical backdrop is supportive of gold. Another incident such as the tragic shooting down of the civilian airline could be a catalyst to a wider conflict.
Yesterday, gold and silver were mixed. Gold gained 0.36 per cent or $4.90 yesterday, closing at $1,270.20, while silver fell 0.35 percent or $0.06, closing at $17.30.
Today's AM fix was USD 1,264, EUR 1,103.64 and GBP 824.74 per ounce.
Yesterday's AM fix was USD 1,263.75, EUR 1,106.71 and GBP 828.80 per ounce.
Get Breaking News and Updates On Markets Here