Automotive industry has its special place in the world economy. This is why we would like to research the most interesting autostocks in our humble opinion.
So to speak, every trading session begins in Japan and Tokio Stock Exchange (TSE) plays an important role in the modern market economy. For instance, TSE is the world's 4th largest and Asia's largest exchange. Therefore we decided to start our article series about carmaker shares from Toyota Motors (NYSE:TM).
Chart 1. Daily Toyota Motors Chart
  <!== INSTRUMENT %% %1440% ==!>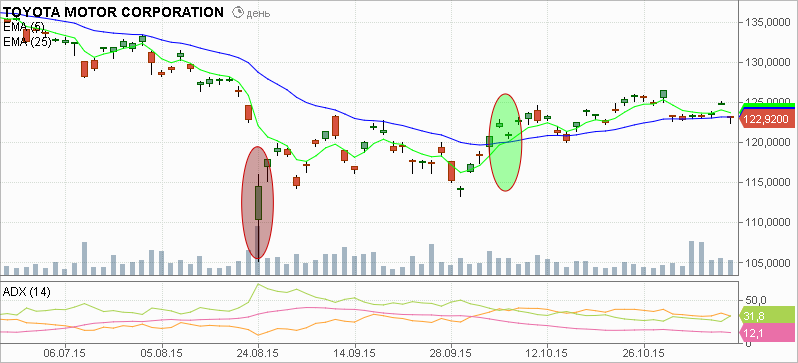 As you can see on this chart, during Summer 2015 there was a down trend and Tianjin Explosion on 13 August 2015 led to the significant fall of stocks from $ 128.00 to $ 105.00 per share. According to the technical analysis, these news had formed a hammer pattern. This candelestick pattern is considered as a bullish one during a downtrend.
In October this signal was proved by two moving average (MA) crossover. Moreover, a short-term MA had crossed abve a long-term MA which confirmed an upward momentum. From the fundamental point of view, this signal was related to the positive financial results for the six-month period ended 30 September 2015 in comparison with other automotive company.
To sum up, in terms of fundamental and technical analyses Toyota stocks are in consolidation phase and two moving averages forecast a continuing drawdown. We recommend to add this share into your investment portfolio because beta = 0.6, which means good financial strength. A reclaimed auto sales crown and strong views on hybrids market coupled with hard error analysis session give a chance to potential shareholder to be a part of the socio-future oriented company. As about short-term trading, it is useful to control intraday volumes, time&sales and news.