Shares of Bellerophon Therapeutics, Inc. (NASDAQ:BLPH) rose by 59.09% in the past week and 25.5% for the last 4 weeks. In the past week, the shares have outperformed the S&P 500 by 61.29% and the outperformance increases to 29.24% for the last 4 weeks.
<!== INSTRUMENT %% %1440% ==!>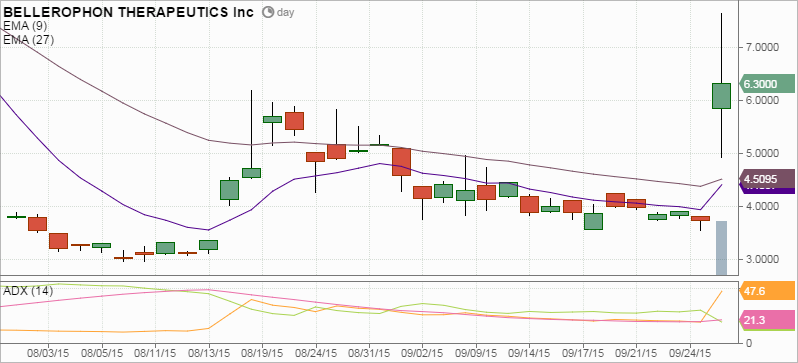 Bellerophon Therapeutics, Inc. BLPH announced positive interim data from part 2 of a phase II study on INOpulse for the treatment of pulmonary arterial hypertension (PAH). Results from the study supported data from part 1 of the phase II study on INOpulse and also indicated a sustainability of benefit in PAH patients.
The company also announced that the FDA has issued a Special Protocol Assessment for the phase III program on INOpulse, which is expected to be initiated later this year. The phase III program will include two studies – one with two treatment arms (iNO 75 and placebo) and the other with three treatment arms (iNO 75, iNO 50 and placebo) – undertaken either sequentially or simultaneously.
On a different note, The Company has disclosed insider buying and selling activities to the Securities Exchange, According to the information disclosed by the Securities and Exchange Commission in a Form 4 filing, the CEO of Bellerophon Therapeutics, Inc., Peacock Jonathan M, had purchased 5,000 shares in a transaction dated on August 19, 2015. The transaction was executed at $5.47 per share with total amount equaling $27,350. Currently the company Insiders own 0.4% of Bellerophon Therapeutics LLC Company shares. Institutional Investors own 72.2% of Company shares. During last 3 month period, -0.62% of total institutional ownership has changed in the company shares.