EMCOR Group Inc. EME posted its third consecutive earnings beat, as the company's third-quarter 2017 adjusted earnings from continuing operations came in at a record $1.09 per share, trumping the Zacks Consensus Estimate of 82 cents by a whopping 32.9%.
The earnings figure also rose an impressive 28.2% year over year, driven by higher productivity and improved margins. Solid non-residential construction demand and strong project execution boosted profits.
Inside the Headlines
The company generated $1,887 million in revenues for the quarter, which edged down 1.9% year over year, and also lagged the Zacks Consensus Estimate of $1,925 million. Till the first quarter of 2017, EMCOR had delivered eight consecutive quarters of record year-over-year revenue growth.
Revenues in the quarter were primarily fueled by sound performance from the combined U.S. Construction segments, along with solid contribution from its recent acquisitions.
In the quarter under review, the U.S. Construction segment (up about 5.9% year over year) sustained its robust momentum and delivered strong revenues, and operating income growth, driven by the U.S. Mechanical Construction business (up 9.9%). The U.S. Electrical Construction business remained almost flat year over year.
The company's U.S. Building Services segment revenues moved down 5.1% year over year.
The U.S. Industrial Services revenues, which were affected by Hurricane Harvey, continued to exhibit a lackluster performance, and contracted 39.1% year over year. The hurricane led to a delay in the fall turnaround work and under absorption of overhead costs for projects which the company was unable to execute on, putting pressure on the segment's margins.
Revenues from total U.S. operations declined 2.7% year over year to $1,800.8 million. Revenue growth from the U.K. building services jumped back to the growth trajectory, and grew 17.6% year over year to $85.9 million, driven by profitable new contracts and solid execution in base business.
As of Sep 30, 2017, EMCOR's backlog was $3.96 billion, up 1.5% year over year with book-to-bill at the highest level in almost two years, supported by a strong domestic market.
A rise in the backlog of the U.S. Electrical Construction, U.S. Industrial Services, and U.K. Building Services segments more than offset the dip in backlog for the U.S. Mechanical Construction and U.S. Building Services, resulting in overall growth.
From an end-market perspective, the company witnessed growth in backlog for the commercial, institutional, hospitality and healthcare markets, which was somewhat offset by the declines in industrial, water & wastewater and transportation sectors.
EMCOR's operating income came in at a record $106.5 million, up nearly 24% compared with the prior-year quarter, driven by improved profitability and margin expansion in every segment except U.S. Industrial Services, which was affected by Hurricane Harvey. Operating margins came in at 5.6%, reflecting an expansion of 110 basis points over the prior-year period.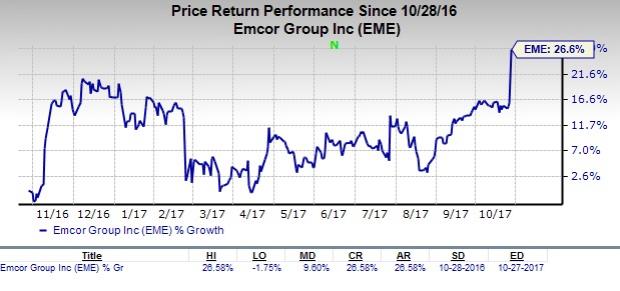 Liquidity & Cash Flow
EMCOR's cash and cash equivalents totaled $480.5 million as of Sep 30, 2017, compared with $464.6 million as of Dec 31, 2016. Total debt and capital lease obligations were $273.5 million, declining from $283.3 million recorded on Dec 31, 2016.
Cash flow used in operating activities for the first nine months of 2017 came in at $238.2 million, significantly higher than $128.9 million recorded in the same period last year.
Guidance Raised
Encouraged by its accretive acquisitions and increasing traction in the U.S. construction space, EMCOR's management raised its 2017 guidance, with earnings from continuing operations projected in the range of $3.70-$3.80 (up from previous projections of $3.40-$3.60).
In light of the current size and mix of its backlog and overall positive market conditions, EMCOR reiterated its revenue guidance for 2017 at $7.6 billion.
Our Take
EMCOR has had a decent first half of the year 2017, as the company set fresh records for net income and outdid revenue expectations as well. However, this quarter's performance was somewhat tepid. Nevertheless, strong performance in the non-residential construction segment has set the tone for robust future growth, as is reflected in the company's healthy backlog and 2017 guidance.
Also, a healthy balance-sheet position and increasing market traction added to the company's strength, indicating bright future prospects. In addition to this, increasing strength in the U.S. construction markets bode well for the company. Building Services is also anticipated to gain from sustained growth in the retrofit and energy savings projects.
On the other hand, the company sees headwinds in its U.S. Industrial Services segment, which will be affected by adverse "new build" heat exchanger fabrication pricing.
We believe the company's diversified business structure, along with its concerted efforts to explore beyond traditional shop-related operations for tapping other profitable areas like food processing and power, will drive long-term growth.
EMCOR currently carries a Zacks Rank #3 (Hold).
Stocks to Consider
Some better-ranked stocks in the broader construction sector include KB Home KBH, PulteGroup, Inc. PHM and NVR, Inc. NVR. While KB Home sports a Zacks Rank #1 (Strong Buy), PulteGroup and NVR carry a Zacks Rank #2 (Buy). You can see the complete list of today's Zacks #1 Rank stocks here.
KB Home registered a positive average surprise of 12.7% for the four trailing quarters, beating estimates all through.
PulteGroup registered a remarkable positive average surprise of 8.1% for the last four quarters, driven by four consecutive beats.
NVR, Inc. has a decent earnings beat history, having surpassed estimates each time over the trailing four quarters for an average beat of 17.2%.
Wall Street's Next Amazon
Zacks EVP Kevin Matras believes this familiar stock has only just begun its climb to become one of the greatest investments of all time. It's a once-in-a-generation opportunity to invest in pure genius.
Want the latest recommendations from Zacks Investment Research? Today, you can download 7 Best Stocks for the Next 30 Days.
Click to get this free report
EMCOR Group, Inc. (EME): Free Stock Analysis Report
PulteGroup, Inc. (PHM): Free Stock Analysis Report
KB Home (KBH): Free Stock Analysis Report
NVR, Inc. (NVR): Free Stock Analysis Report
To read this article on Zacks.com click here.
Zacks Investment Research