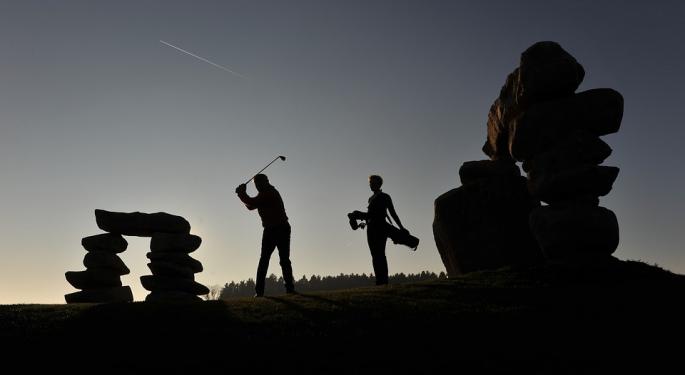 Under Armour Inc UA 1.35% is worth going Underweight on, Morgan Stanley's Jay Sole said in a new analysis (reiterating his previous bear thesis) over the weekend. No, it's not because Jordan Spieth -- an Under Armour athlete -- had one of the worst collapses in golf history at the Masters on Sunday.
Two Real Reasons For Bearishness
According to Sole, women's apparel growth is slowing, along with "soft" trends in the running footwear market as a whole. Both of these headwinds will likely cause a future quarterly sales miss and a contraction in Under Armour's valuation, the analyst added.
Sole cites data from SportScan, which shows that first quarter wholesale apparel sales fell 2 percent year-over-year, something that also happened last quarter. "Many assumed the soft 4Q data was due to warm weather.The fact it has persisted when weather was more normal is a troubling sign," he warned.
The slowdown is striking.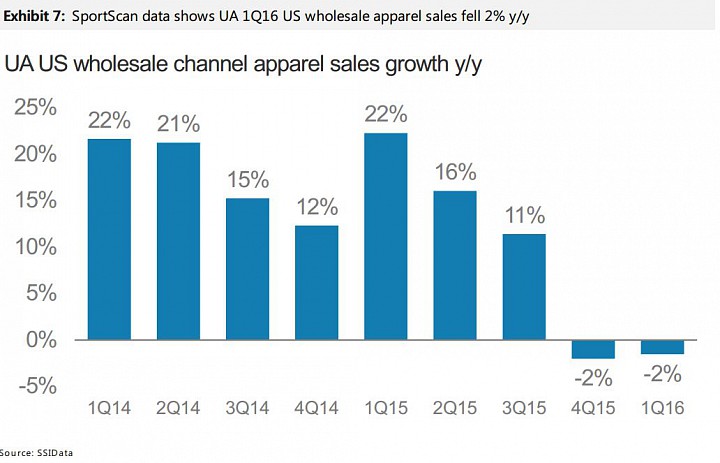 The reason, it appears, could be something far worse than seasonal trends. "We think a large part of the issue is UA is fully penetrated in its traditional sporting goods channel and perhaps more importantly, the industry is experiencing a slowdown," Sole explained.
Under Armour's focus on apparel (73 percent of sales) and its 65x P/E means it must continue to outperform the industry, not experience slowing growth, he added.
Aggregate sales at Dicks Sporting Goods Inc DKS 3.23% and Hibbett Sports, Inc. HIBB 3.03% have also appeared to plateau of late, boosting the argument that at least part of Under Armour's problems are industry-related.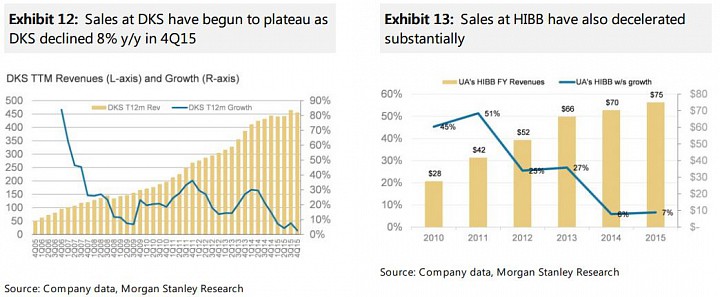 Morgan Stanley holds a split-adjusted $32 price target on Under Armour, predicting about 25 percent downside from early April levels.
Date
Firm
Action
From
To
May 2016
Wells Fargo
Assumes
Market Perform
May 2016
Brean Capital
Downgrades
Buy
Hold
May 2016
Goldman Sachs
Maintains
Meu
© 2016 Benzinga.com. Benzinga does not provide investment advice. All rights reserved.