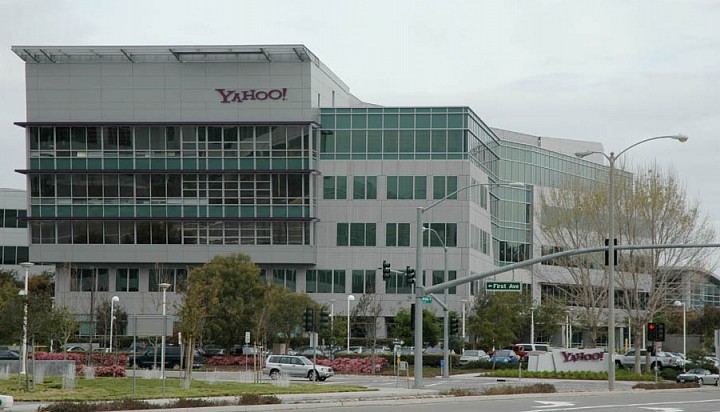 Yahoo continues to engage suitors for its business, but it's really hard to argue whether there's an opportunity to strategically integrate Yahoo with another company. Names likes Google , Verizon, Microsoft, Facebook, Twitter, Softbank and anonymous private equity firms have been cited as potential bidders. Furthermore, Yahoo delayed the deadlines for bids until April 18th. The most likely candidates are hard to determine, so I'm going to start with a process of elimination before arriving at potential partners.
So, who is the biggest window shopper?
At this point, I'd feel fairly confident excluding Google right off the bat. While Google has plenty of cash sitting on its balance sheet, the company's dominance in search advertising diminishes any likelihood of deal approval by the DOJ (Department of Justice). While Google dominates a small portion of the entire advertising market, the company does corner more than 60% of North America Search, and while Google's position of dominance hasn't gone anywhere, there's no denying the stagnancy of the core search business.

Source: UBS
Without an acquisition to goose search revenue growth, we're facing a dynamic of declining desktop ad-revenue offset by mobile search advertising. Since, Google's market expansion opportunities are somewhat limited in emerging market economies, the last strategy to sustain growth is to therefore acquire Yahoo.
Even so, we then must remind ourselves what happened to Softbank when they attempted to acquire both Sprint and T-Mobile. The deal got busted as the two combined composed 32% of the U.S. mobile subscriber market. Therefore, the odds of Google acquiring Yahoo are even slimmer given Google and Yahoo's combined global market share would reach 76%, which is enough to irk other government agencies beyond just the United States.
So, under what circumstance would Google bid on Yahoo? Probably never. But, let's say Google was dumb enough to write a number on an envelope - would Yahoo accept the bid? Yes, because if they were to entertain Google, they'd probably buy enough time to further execute on their current turnaround.
But, let's not get ahead of ourselves, let's look at Facebook and Twitter.
Twitter won't submit a bid, because it not only doesn't have the cash (roughly $3.5 billion), but it too is struggling to turnaround declining web audience metrics. There obviously aren't any product or business synergies with the exception that Twitter could executed on some cost synergies to make the bolt-on acquisition significantly more profitable. As it currently stands, Yahoo is heavily bloated with its current headcount. Twitter could combine its product development teams while reducing headcount across the remainder of Yahoo's organization. However, given Twitter's patchy track-record as of late, the board wouldn't approve of an acquisition of this scale.
Clearly Facebook has enough cash sitting on the balance sheet ($16.7 billion in cash & cash equivalents) to acquire Yahoo. But, at the same time I'm having difficulty imagining how Facebook would legitimately recoup its investment or compete more directly with Google. Unless, if Facebook had a way of integrating Yahoo's search technologies with Facebook and can combine the back-end ad-tech to be integrated with Yahoo's inventory, there's not a whole lot of synergies here.
Yahoo lost the war on search over a decade ago, and it has yet to invent a more compelling search algorithm either. Furthermore, the design of Yahoo's homepage has improved modestly, but to say that the issue stems from engineering or product design would be a stretch. Instead, Yahoo can't escape from its current position, because the company failed to pivot the strategy to be search-centric rather than portal-centric back in 2003 (web dinosaur era). I.e. the current form of Yahoo.com was wrong ages ago and what's left of the user base are those who prefer consuming mainstream media via a curation technology. It's certainly the most linear format to the web, and while some linear concepts like radio have transitioned successfully (Pandora), it's not superior to self-directed content consumption via search.
Facebook could be a promising partner in this regard, because even if they can't earn a positive return on invested capital, there are some technologies within Yahoo that could be strategic in nature. Facebook is in the process of developing a publisher network. With Yahoo under its belt, it can scale Facebook Instant Articles as Yahoo's dominance among media publishers on the web is unquestionable. List any notable news brand (Washington Post, New York Times, CNN), and Yahoo will still have a larger audience.
How about Verizon and Softbank
Many sources in the media are pointing to a potential Verizon or Softbank bid. In the case of Verizon, it would make a lot of sense to acquire Yahoo core, but not Yahoo Japan. So, if Yahoo's entertaining bids from these two companies we should start with what they're looking for. In the case of Softbank, it would want to acquire the remaining stake of Yahoo! Japan so it can focus on the development of search and media technologies for the Japanese market. Since, Yahoo! Japan is an important asset to Softbank, the company would need to acquire a much larger stake in the company to funnel further investment into its research or media divisions. Furthermore, Softbank can reduce the cost of licensing to Yahoo from 3% to perhaps zero assuming the acquisition does occur. Therefore, I rate the possibility of a Yahoo! Japan acquisition relatively high, despite the $8.5 billion cost (today's market value).
In the case of Verizon, I'm not certain of whether the company is in any financial position to acquire Yahoo for roughly $8+ billion. The chances of the reported $8 billion valuation from various media outlets is low. There's going to be a premium attached to the acquisition that varies anywhere from 25% to 75%. In the case of Yahoo, we could look at the low-end of the premium range, so perhaps a more realistic bid is closer to $10 billion to $12 billion. If that's the case, Verizon will need to swallow a tough pill given its weakened corporate credit rating following Standard & Poor's recent downgrades to Verizon's (Florida and California) subsidiaries from BBB+ to BB+. The parent company has a BBB+ credit rating from Stand & Poor's, but upon undertaking further leverage to acquire Yahoo the credit rating will likely drop a notch or so.
The strategic value of AOL and Yahoo combined could strengthen Verizon's presence in over-the-top. However, Verizon's position as a telecom is far more important to stakeholders, and it begs to question whether Verizon can even divert any of its cash (approximately $4.5 billion) given the ongoing bidding process for lower-band 600 MHz spectrum. Oppenheimer estimates that Verizon will spend $10 to $12 billion in the spectrum auction, so... a more leveraged transaction for Yahoo is probable, but the risks to Verizon's capital structure is significant and may weaken the board's conviction if Yahoo is bid beyond $10 billion.
Conclusion
It's still too early to determine the total value of Yahoo on a sum of the parts basis. I do anticipate a buyout premium to today's market prices, so late investors can still get a piece of the action. Even so, determining a bidder becomes difficult given the changing corporate dynamic. Therefore, take some of the media reports for a grain of salt.