Today, Keryx (NASDAQ:KERX) announced that it has entered into an agreement with funds managed by Baupost Group, LLC to raise $125 million through the private placement of Convertible Senior Notes due in 2020.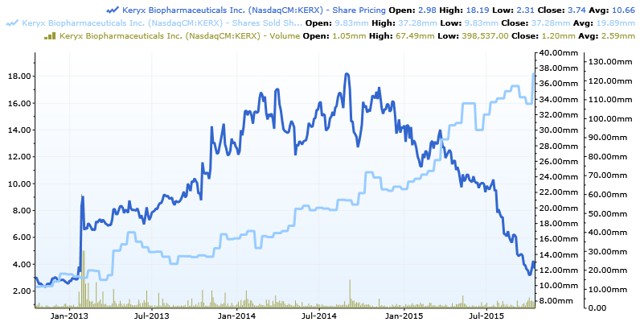 (Via S&P CapIQ)
Keryx Biopharmaceuticals is focused on bringing innovative therapies to market for people with renal disease. Baupost has held a position in the company since May 2014.
And Klarman has been steadily increasing his position in Keryx since the second quarter of last year. After buying an initial stake of 9.15 million shares, at the end of Q2 2015, he had boosted his stake to 25.8 million shares, roughly 24.6% of the company's outstanding shares. Today's transaction will significantly increase Klarman's exposure to Keryx.
The zero-coupon notes will mature in October 2020, unless converted in accordance with their terms prior to such date. The conversion price of the notes has been set at $3.74, the closing price of Keryx on October 14, 2015, the day before the deal closed.
As part of the deal, Keryx will increase the number of directors on its Board to eight, as Baupost will have the...
More