A wise investment decision involves buying well-performing stocks at the right time while selling those that are at risk. A rise in share price and strong fundamentals signal a stock's bullish run.
Applied Optoelectronics, Inc. AAOI is technology stock that has performed extremely well so far this year and has the potential to carry the momentum in near term. Therefore, if you haven't taken advantage of the share price appreciation yet, it's time you add the stock to your portfolio.
What Makes Applied Optoelectronics an Attractive Pick?
An Outperformer: The company has outperformed the Zacks categorized Electronics - Semiconductors industry on a year-to-date basis. The stock returned a massive 161.9% compared with 20.9% increase recorded by the industry.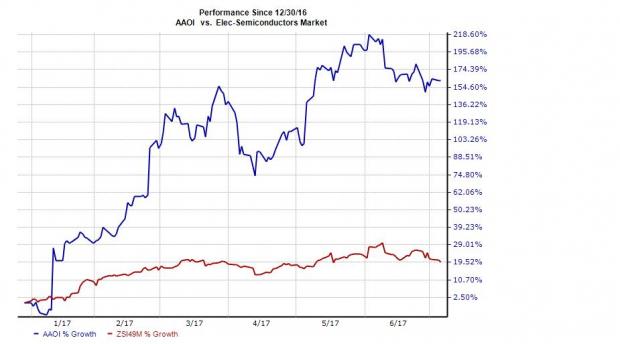 Solid Rank & VGM Score: Applied Optoelectronics currently carries a Zacks Rank #2 (Buy) and a Value Growth Momentum Score (VGM Score) of 'B'. Our research shows that stocks with a VGM Score of 'A' or 'B' when combined with a Zacks Rank #1 (Strong Buy) or #2 offer the best investment opportunities for investors. Thus, the company appears to be a compelling investment proposition at the moment.
You can see the complete list of today's Zacks #1 Rank stocks here.
Northward Estimate Revisions: Estimates for the current year moved north over the past 60 days, reflecting analysts' confidence in the company. Over this period, the Zacks Consensus Estimate for the current year increased 0.5% to $4.34.
Positive Earnings Surprise History: Applied Optoelectronics has an impressive earnings surprise history. The company outpaced the Zacks Consensus Estimate in the trailing four quarters, delivering a positive average earnings surprise of 118.3%.
Strong Growth Prospects: The Zacks Consensus Estimate for 2017 earnings is currently pegged at $4.34, reflecting year-over-year growth of 271.2%. Moreover, earnings are expected to register 15.3% growth in 2018. The stock has long-term expected earnings per share growth rate of 18.8%.
Growth Drivers: The fiber-optic networking market is experiencing a boost as telecoms across the globe are upgrading their internet connections and in-house data center networks to install next-generation 5G wireless networks. Since, fiber-optics offer the quickest and least expensive network solutions, Applied Optoelectronics has considerable opportunity to grow in this market.
Moreover, Applied Optoelectronics is currently riding on Amazon Web Services' (AWS) growth. It derives nearly 50% of its revenues from Amazon AMZN whose booming cloud business is helping Applied Optoelectronics' top line to gain traction. Notably, the company's customer list contains big names such as Microsoft MSFT and Facebook FB and of course Amazon.
Applied Optoelectronics, Inc. Revenue (TTM)
With the market shifting from 40-Gig to 100-Gig data center products, Applied Optoelectronics sees demand for both. In the last reported quarter (first quarter of 2017), 40G and 100G products contributed a respective 62% and 30% to the company's data center revenues.
Today's Stocks from Zacks' Hottest Strategies
It's hard to believe, even for us at Zacks. But while the market gained +18.8% from 2016 - Q1 2017, our top stock-picking screens have returned +157.0%, +128.0%, +97.8%, +94.7%, and +90.2%respectively.
And this outperformance has not just been a recent phenomenon. Over the years it has been remarkably consistent. From 2000 - Q1 2017, the composite yearly average gain for these strategies has beaten the market more than 11X over. Maybe even more remarkable is the fact that we're willing to share their latest stocks with you without cost or obligation. See Them Free>>
Want the latest recommendations from Zacks Investment Research? Today, you can download 7 Best Stocks for the Next 30 Days.
Click to get this free report
Amazon.com, Inc. (AMZN): Free Stock Analysis Report
Facebook, Inc. (FB): Free Stock Analysis Report
Microsoft Corporation (MSFT): Free Stock Analysis Report
Applied Optoelectronics, Inc. (AAOI): Free Stock Analysis Report
To read this article on Zacks.com click here.
Zacks Investment Research