So things aren't exactly smooth sailing for the new American Airlines (AMR) and US Airways (LCC) merger.  Earlier last week, the chief of Jetblue (JBLU) expressed his concerns about the new huge airline taking over Washington DC.  In fact, he believes that the new airline should "give up" DC flights altogether.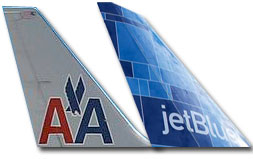 It would appear that the combined carriers would take up about 70% of Washington's airport, and he feels that it would threaten competition.  I kind of understand what he means, that is almost like a monopoly in the aviation industry.  Presently, Barger has asked of the US Government to force the new carrier to let go of some flights and make it available to other airlines.  It is also partly because JBLU wants to become more present in Washington.
As we would expect, the merging companies disagree with this and commented that they have no intentions of reducing flights as it would hinder their operations and ability to serve smaller communities.  I guess we will have to see what happens.