The Zillow Group (ZG)(Z) just released its second-quarter financial results, posting a loss of 12 cents per share and revenues of $266.9 million. Currently, ZG is a Zacks Rank #3 (Hold) and is down 7% to $44.40 per share in trading shortly after its earnings report was released.
Zillow:
Beat earnings estimates. The company posted earnings of -$0.12, beating the Zacks Consensus Estimate of -$0.15.
Beat revenue estimates. The company saw revenue figures of $266.9 million, beating our consensus estimate of $265 million.
Total revenue was up 28% year-over-year. Marketplace revenue increased 30% to $248.6 million. Display revenue increased 9% to $18.3 million. More than 178 million average monthly unique users visited Zillow Group brands' mobile apps and websites, an increase of 6% year-over-year.
For the third quarter, Zillow expects revenue in the range of $273 to $278 million. This is on the lower end of our current consensus estimate, which calls for revenue of $284 million.
"Zillow Group finished the first half of 2017 with another quarter of record revenue and traffic, further solidifying our foundation for long-term growth," said Zillow Group CEO Spencer Rascoff.
Here's a graph that looks at Zillow's earnings performance history:
Zillow Group, Inc. Price, Consensus and EPS Surprise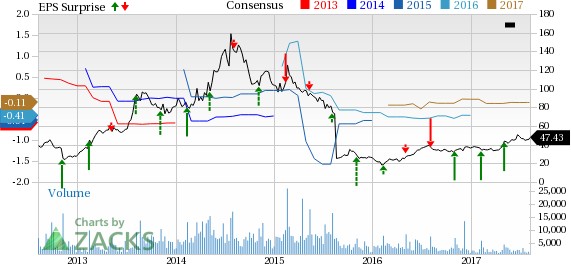 Zillow Group, Inc. Price, Consensus and EPS Surprise | Zillow Group, Inc. Quote
Zillow Group, Inc. provides real estate and home-related brands on the Web and mobile. The company focuses on home lifecycle which include renting, buying, selling, financing and home improvement. Its portfolio of consumer brands consists of Zillow, Trulia, StreetEasy and HotPads. The company's business brands includes ActiveRain, Diverse Solutions, Market Leader, Mortech, Postlets and Retsly.
Check back later for our full analysis on Zillow's earnings report!
Want more stock market analysis from this author? Make sure to follow @
https://twitter.com/Ryan_McQueeney
on Twitter!
Looking for Stocks with Skyrocketing Upside?
Zacks has just released a Special Report on the booming investment opportunities of legal marijuana.
Ignited by new referendums and legislation, this industry is expected to blast from an already robust $6.7 billion to $20.2 billion in 2021. Early investors stand to make a killing, but you have to be ready to act and know just where to look. See the pot trades we're targeting>>
Want the latest recommendations from Zacks Investment Research? Today, you can download 7 Best Stocks for the Next 30 Days.
Click to get this free report
Zillow Group, Inc. (ZG): Free Stock Analysis Report
To read this article on Zacks.com click here.
Zacks Investment Research