In the last non-Bill auction conducted by the US Treasury two weeks ago, many were surprised to see a surge of interest for 30 Year paper. Then after the Fed refused to hike rates sending the long yield plunging, it suddenly all became very clear.
Fast forward two weeks to today's just concluded auction on the other end of coupon paying US paper, namely the issuance of $26 billion in 2 Year paper: particular attention was being paid to this auction following the dramatic acrobatics in the short end last week just before and just after the FOMC decision.
And while a month ago, the 2 Year left a lot to be desired, today's issue was positive euphoric, pricing at 0.699% 0.3 bps through the When Issued, with a Bid to Cover of 3.269, solidly above last month's 3.164 which was the lowest since October.
The internals were also in line with averages: Directs took down 13.3% of the auction, above the 10.2% in August, but below the 14.5% TTM average, while Indirects were left with 43.5% of the issue, on top of the 43.8% TTM average, if the highest since April. This left 43.5% to the Dealers, 2% higher than with what they have been receiving over the past year.
Finally, with the 2Y trading solidly positive in repo, there was no squeeze ahead of today's auction to talk of, so perhaps it is surprising that the auction was as strong as it was.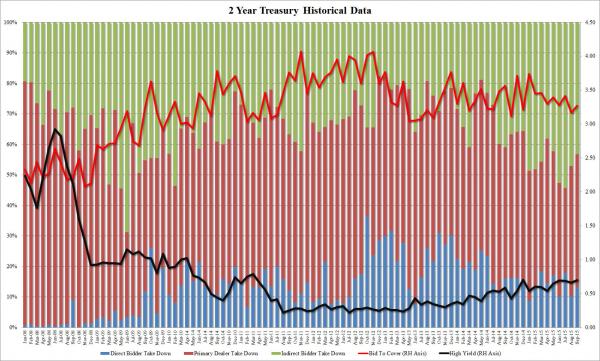 In summary: hardly as blistering as the recent 30 Year but hardly indicative of any near-term rate hike concerns.