Earlier this week, I noted opening 3 positions after a bearish breakout in AUD/USD. AUD/USD - trading a bearish breakout

AUD/USD 1H Chart 7/20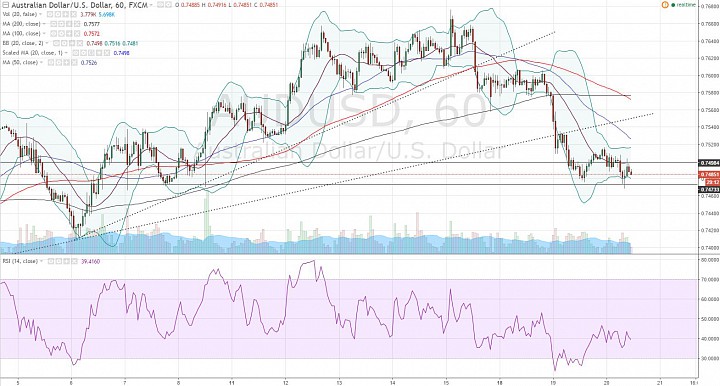 (click to enlarge)

2 targets hit:
Last time, I noted that the first target at 0.7530 was hit.
During the 7/20 session, the 0.7480 target was also hit.
Now, I have 1 position still open with a target of 0.7430. 

Anticipating pullback:
This 3rd target is slightly aggressive for the short-term time-frame. 
Perhaps it is possible, but I would not be surprised by a bullish pullback, especially with a bullish divergence at the moment. 
I would think that price will hold under 0.7560. 
A break above 0.7580 would cause me to abandon the bearish outlook.
Essentially, I am moving the stop for my 3rd position to "break-even" point. This locks in the profit from the 2 positions that already hit targets.
The minimum gain for this trade is now around 360 pips. (155+205 pips)

AUD/CAD stopped out:
I did buy AUD/CAD, which stopped out: AUD/CAD might see buyers at rising trendline support. Basically, 2 positions were stopped out quickly with a total of 20 pips lost.