GBP/JPY has been bearish since early July, when it made a high on the year at 175.36. This bearish trend continued into August, with the latest swing starting from the 174.22 high down to the 170.42 low on the month. 
Then we got a bullish push that broke the pattern of lower highs and lows. Price also broke above the falling trendline from the 174.22 high. It has stalled at 172.68 and price has been in a mini consolidation so far this week.
GBP/JPY 4H Chart 8/27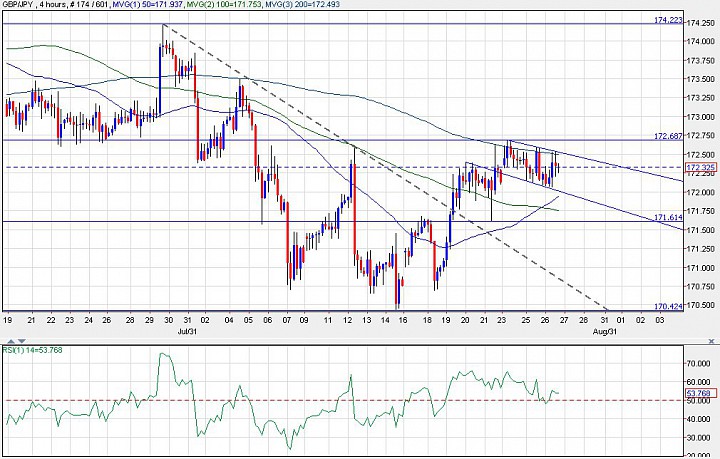 (click to enlarge)
Price has broken above the 100- and 50-period SMAs in the 4H chart, but is still holding below the 200-period SMA. Basically, price is at the cusp of breaking into a bullish continuation. It will have to not only break above this week's consolidation but also above 173.
Why?
When we look at the daily chart, we can see that price is trading under a falling trendline and the 50-day SMA. A break above 173.00 should be able to clear above these resistance factors and revive the bullish mode, which opens up the 175.36 high on the year. 
GBP/JPY Daily Chart 8/27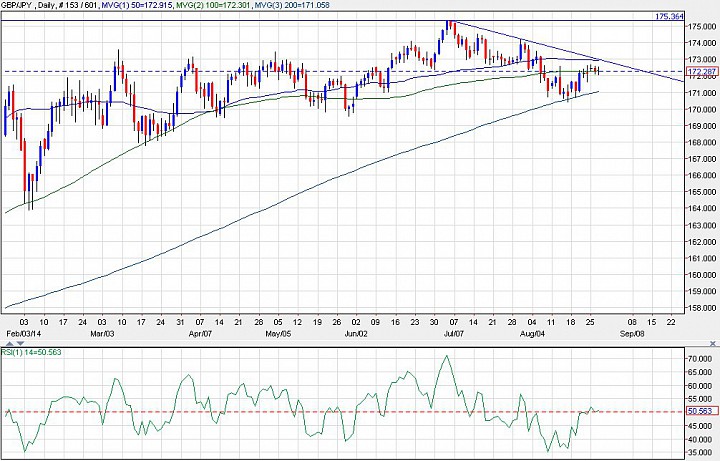 (click to enlarge)
So we have established the bullish outlook.
However if price fails to push through 173, and instead falls below 171.60, GBP/JPY will continue to be in consolidation-bearish mode in the short to medium-term. You can see the 171.60 level being a key support/resistance pivot in the 4H chart. Also, if price does break below 171.60, it will clear below the 100- and 50-period SMAs in the 4H chart, making a strong case for the bearish outlook in the short-term toward at least 170.42, with a break below that opening up a key support from April and May in the 169.50-169.80 area.