Well that didn't last long. It seems - just as earlier in the week - the ability for either side in this Euro-system death match game of chicken to find any common ground to even start negotiations remains lost:
GREEK GOVT OFFICIAL SAYS THAT "IN THESE CIRCUMSTANCES, THERE CANNOT BE A DEAL TODAY"
EUROGROUP DISCUSSED "UNREASONABLE", "UNACCEPTABLE" DRAFT TEXT INSISTING ON EXTENDING BAILOUT
EURUSD is tumbling and S&P Futures are falling fast.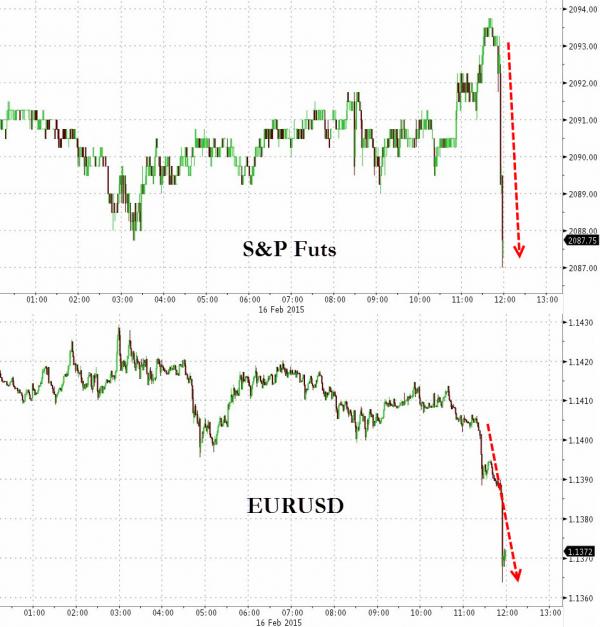 and Greek Bank Bonds had been hinting at problems all day...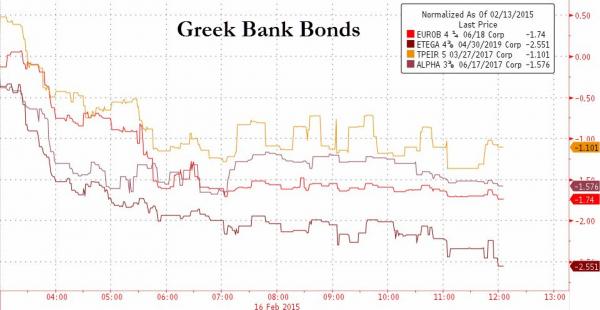 Further comments:
*GREEK GOVT OFFICIAL SAYS NO AGREEMENT POSSIBLE AT EUROGROUP
*GREEK GOVT OFFICIAL SAYS EU PROPOSALS `ABSURD,' `UNACCEPTABLE'
Greek govt official says in e-mailed note that Eurogroup Chairman Jeroen Dijsselbloem's proposals for the country to observe its existing bailout commitments are "absurd," "unacceptable."
so this is the next key event:
Over in Frankfurt, the ECB Governing Council will meet on Wednesday.

 

Close attention will be paid to any decision the governors take on Greece and its lenders' access to central-bank liquidity. Already, Greek banks, which have been hurt by an outflow of deposits due to the country's political and financial uncertainty over the last two months, can no longer use their government's bonds to get liquidity from the ECB, depending instead on more expensive emergency funding from their own central bank.
But of course that still leaves the uncomfortable post-Eurogroup press conference and statement which we suspect will be even more uncomfortable than last week's for Dijsselbloem.