With a headline like "3rd largest trade deficit on record" we would think that the Japanese trade balance report was a really poor report and shows that despite the weaker JPY that the export-heavy Nikkei would stumble.

Well, digging into the details of the report we see that things aren't quite so bad.

First off, exports rose 12.2% y/y in July compared to 7.4% in June, a nice improvement, and shows that in fact Japanese companies are seeing some pick-up in demand - in fact its the largest increase since 2010.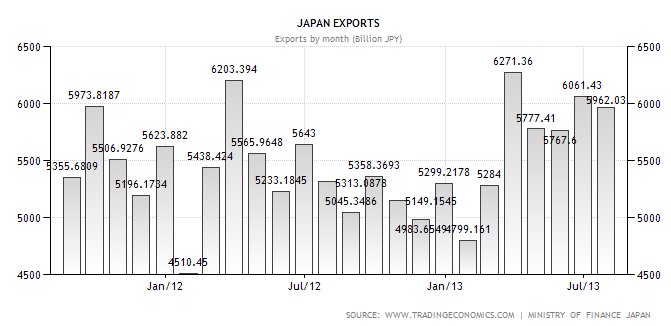 In the chart above, we see that exports have been doing well over the last 5 months, after slumping heavily throughout most of 2012. There was even a considerable pick-up in exports to the European Union (up 16.6% y/y after a 8.6% y/y rise in June).
Now, the bad news - imports surged on the month by 19.6% y/y - and it wasn't the good kind of surge in imports, where consumers are buying a ton of goods from abroad, but more so a big jump in imports of natural gas and fuel. 
The news wasn't regarded as terrible in Japan, and the NIkkei finished higher about 0.8% higher, and the JPY weakened. Certainly not a risk-off reaction.
The lesson here then is when it comes to trade data, its always important to see the change in the mix of exports vs imports, and sometimes even a wider deficit can be seen as a "good" report if exports were strong.

For the government, they do need to figure out how to provide the country with more energy without resorting to exports - a problem plaguing them since they switched off their nuclear reactors in the wake of the Fukushima disaster.
- Nick